9 Reasons To Keep Your Tow-Behind Air Compressor
[This is a fun satirical response to VMAC's article: 9 Reasons to Ditch Your Tow-Behind Air Compressor.]
Tow-behind air compressors have been popular in many industries, including construction and utilities, for decades. This equipment made it easy for contractors and operators to ensure they were able to take their air compressor with them to the job site.
Today, owners, operators, and fleet managers have more options for mobile compressed air than just tow-behind air compressors. Manufacturers continue to innovate with a variety of options, from hydraulic, gas, and diesel powered above-deck air compressors, UNDERHOOD™ air compressors, and underdeck PTO-driven air compressor systems. But even with these innovative air compressor solutions, which pack a lot of power into compact packages, many people still have a problem letting go of their trusty tow-behind air compressors. Here are 9 reasons to keep your tow-behind air compressor:
9. ENJOY THE CHALLENGE OF DRIVING AND PARKING WITH A TRAILER
Your experience towing your bulky air compressor has given you the skills of a precision driver! You've successfully merged onto busy freeways, reversed without jack-knifing, and managed to find parking in even the most crowded job sites. You have a sense of pride in the skills you've honed over the years of navigating your truck and trailer in all sorts of tricky (and frankly, stressful!) situations.
8. TAKE YOUR TIME TRAVELLING TO JOB SITES
Trailers can hinder your access to job sites, especially mobile service work in remote or off-road areas. If you enjoy taking extra time and care to navigate your way to hard-to-reach job sites, then it's best to stick with your tow-behind.
7. MONOPOLIZE YOUR HITCH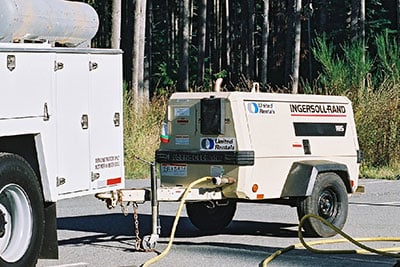 Your truck came with a tow hitch for a reason, so you're going to use it! Now you can always use your tow hitch for your air compressor. If you need more equipment, then you will have to have another vehicle and driver sent out to bring all the required equipment to the same spot. That means the second truck will have the opportunity to use its hitch too.
If you feel like doing it all yourself, you can make two trips to the job site—one to drop off your air compressor, and one to drop off the rest of your equipment. Driving around is fun!
6. ONLY TRAVEL WITH YOUR AIR COMPRESSOR SOMETIMES
Every service job will present you with the opportunity to guess: will I need my air compressor for this job? You can bet on the odds of whether you'll need to bring your tow-behind with you to the job site or not. Keep track of how many times you guess right, and how many times you must turn around to go back and collect your trailer.
5. SPEND LOTS OF TIME TAKING EXTRA SAFETY PRECAUTIONS & MEASURES
We hope everyone is passionate about workplace safety, and if you have a tow-behind air compressor, you'll get to indulge this passion practically every day. Tow-behind air compressors have a lot of parts to check frequently. You'll need to ensure the hitch, taillights, and tires are all in working condition. If any of these parts are failing, then you'll get to spend part of your day fixing them, instead of actually getting down to work. If you're a procrastinator, this is the best!
It also takes vehicles pulling heavy tow-behind air compressors longer to stop. To be able to stop quickly and safely, you'll have to drive at reduced speeds whenever you're towing your air compressor. You can learn and observe tow bar regulations and adjust your driving to make up for a larger blind spot.
In addition to all the safety checks you'll enjoy doing, you'll also have the opportunity come up with safety measures to ensure thieves don't steal your tow-behind. It's much easier to steal a tow-behind than to steal an above-deck air compressor, or a vehicle integrated compressor, like an UNDERHOOD or a transmission-mounted PTO drive air compressor. But since you like a challenge, and you're passionate about safety and security, you'll enjoy taking extra precautions to ensure your tow-behind is not stolen. Channel your inner Kevin McCallister in Home Alone and have some fun setting up booby traps every time you need to park your vehicle.
4. LOTS OF ENGINE MAINTENANCE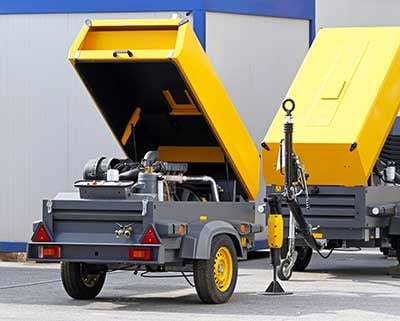 Tow-behind air compressors come with their own engine, in addition to the engine that's part of the service truck or van that's doing the towing. This means that you'll have two engines to maintain, and you'll spend more time and money making sure both engines are in tip-top shape.
Several mobile air compressors use the vehicle's existing power sources to run, such as gas and diesel vehicle engines, transmissions, or PTOs that run hydraulics, but where's the fun in only maintaining one engine?
3. SPEND MORE TIME WORKING ON EACH JOB
Tow-behind air compressors take time to position properly and set up on the jobsite. They require a lot more prep work than a vehicle-mounted mobile air compressor. If you enjoy spending additional time each day setting up your equipment before you actually start to work, then a tow-behind is a great option.
2. USE MORE FUEL, INCREASE YOUR TRUCK'S WEIGHT
Tow-behind air compressors are beasts. They're thirsty monsters when it comes to fuel, when you account for the extra consumption to run the tow-behind, as well as the extra fuel your truck will use to lug a 1,000+ lb air compressor. Your local gas station attendants will love seeing your truck and trailer chugging into the station for another big sale!
Speaking of weight, do you like adding extra weight to your truck? If so, you're in luck—even though the Atlas Copco XAS 110 is considered to be a smaller sized tow-behind air compressor, producing up to 110 CFM, it still weighs 1,100 lb. It's much heavier than the UNDERHOOD™ 150 air compressor, which weighs in at only 200 lb.
1. STAY TRADITIONAL WITH YOUR 1980s COMPRESSOR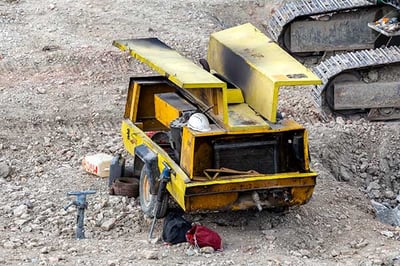 And the number one best reason to keep your tow-behind air compressor is that you are a traditionalist! You enjoy the nostalgia of using the tow-behind. All the extra time spent driving around, setting it up, maintaining it, and keeping it safe is time well spent! The challenges driving, maneuvering, and parking build up your character. And of course, you love utilizing your truck hitch to carry around your 1,000+ lb tow-behind.
Do you have second thoughts about keeping your tow-behind air compressor? There's another option. Vehicle mounted air compressors are the right choice for people who:
Need mobile air regularly
Have light to medium duty applications
Want more space for cargo, tools, and other equipment
Prefer less weight on their vehicles
Want to minimize maintenance
Desire the freedom and convenience of trailer-free driving
If this sounds like you, then consider our sister article: 9 Reasons To Ditch Your Tow-Behind.