Cullen Diesel Chooses Mercedes-Benz 4x4 Sprinter Van
Cullen Diesel is the Detroit Diesel and MTU distributor for BC and works with all types of diesel engines, including marine, construction, and industrial. Cullen Diesel mechanics are factory trained and certified in Detroit Diesel and Mercedes engines.
Dennis Miskow, Branch Manager of Cullen Diesel's Vancouver Island operations, started his career with Cullen as an apprentice heavy-duty mechanic. Over 20 years later, Dennis sat down with VMAC to discuss Cullen's fleet and his decision to add a commercial van to it.
The Switch From Service Trucks To Service Vans
Dennis manages a fleet of seven service vehicles, and when it was time to replace an aging truck, Dennis went straight to his truck builder.
"I spec'd out a truck with a crane and was ready to place the order. It was going to cost about $150k, so I decided to compare it to the cost of a commercial van. The van ended up being half the price."
Because of the significant savings, Dennis decided to explore commercial van options.
"We chose the Mercedes-Benz Sprinter over the other vans because the Sprinter comes in a 4x4 option, which is necessary when we're travelling to jobs in remote locations," says Dennis.
Key Benefits Of Commercial Service Vans
Though the initial draw to the service van was cost, Dennis was aware of other benefits that come with having a van instead of a truck.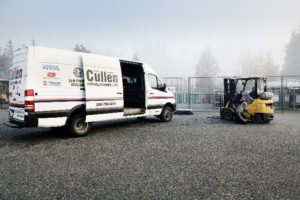 "The van is a smaller vehicle, which makes it easier to drive and maneuver. We do service jobs right at the docks, so the van is the best option for driving to these marine applications," notes Dennis.
The Cullen Diesel Branch Manager also appreciates the extra level of protection from theft and the elements the enclosed space of the van offers:
"Tools and equipment are kept safe inside the van from theft, but also from rain, sleet, ice, and snow. My team also appreciates the enclosed area to store and organize their tools instead of standing around the outside of the truck in all types of weather."
In addition to the cost, size, maneuverability, and enclosed protection from theft and the weather, the van acts as a moving billboard for Cullen, as there's much more advertising space on the van's body.
Testing The Van In Rugged Environments
Having never had a Mercedes-Benz Sprinter or any type of service van in his fleet before, Dennis did have some concerns about how it would hold up in challenging applications. Cullen Diesel services a lot of equipment found in remote areas, often requiring their vehicles to travel in mountainous areas up logging roads.
"I wasn't sure how the van would be able to make it up the logging roads, even though the Sprinter is a 4x4. But on its first service, it drove easily up to the job site, right behind the trucks. Even our logging customers were impressed!" shares Dennis.
Another concern was how long the Sprinter van would hold up in these challenging, dirty, and demanding applications.
"You see a lot of vans used as delivery vehicles, driving on the roads, but we weren't sure how it would hold up after continuously being tested on trails and logging roads," says Dennis. But fast forward to years later, and Dennis confirms he no longer has any worries: "It's been three years, and we haven't had any problems with the van."
Cullen Diesel's Heavy Duty Service Jobs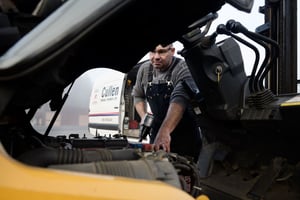 Cullen Diesel's team of heavy-duty mechanics service and repair mining products, logging and marine equipment, generators, construction and industrial equipment, as well as trucks and buses with Detroit Diesel, Mercedes and Allison transmissions.
A typical service job sees mechanics travelling up to logging camps, down to docks for marine repairs, and off to other remote locations. This is where the Mercedes-Benz 4x4 Sprinter van really shines:
"On its first service call, it drove easily up the logging roads to the job site, right behind the trucks."
Choosing A Van Air Compressor: UNDERHOOD™ or Gas Drive?
After selecting his new service vehicle, Dennis planned the upfit with Sterling Fleet Outfitters, a commercial van and truck equipment upfit company. Dennis was pleased to find this upfitter was experienced in cargo van upfits and had plenty of options specifically designed for Cullen's Sprinter van.
When it came time to choose the air compressor, Dennis reflected on Cullen Diesel's current gas drive air compressor.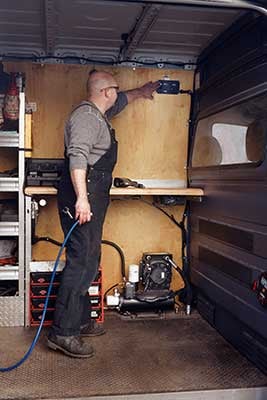 "We knew that the gas drive had lots of problems. It was bulky, it was space-sucking, it was dirty, and we had to fix it constantly," explains Dennis. "We were so used to it; we just accepted that it was a high-maintenance piece of equipment that we had to deal with."
Unfortunately, these problems are common for many mobile mechanics. But they don't have to be...
With the surge in popularity of commercial vans comes an increase in specialized equipment, like the UNDERHOOD™ 40 Van Series Air Compressor—the only air compressor specifically engineered for commercial vans.
The UNDERHOOD40 placement within the engine compartment saves space in the cargo area. It also solves common safety issues, like toxic fume exposure and the risk of gas fires, faced by many operators with standalone gas air compressors installed in the cargo area.
With the UNDERHOOD40, the only space required in the cargo area is 1.7 cubic feet for a combined air/oil cooler and air/oil separator tank.
"My mechanic specifically asked for an UNDERHOOD air compressor for the van," said Dennis. "Because we'd been experiencing problems with our older gas drive air compressor, I was happy to get him what he was asking for."
Dennis worked with Darren Darnley, his VMAC National Sales Representative, to get the Cullen Diesel Mercedes-Benz 4x4 Sprinter van upfitted with the UNDERHOOD40 Van Series.
"Darren was great to work with. He was the point person, and he gave the same high level of service we would give to our customers," notes Dennis.
Like with any investment in new equipment, Dennis did have some concerns, mainly about cost.
"The Van Series Air Compressor is more expensive than a gas drive air compressor, and I also wondered if the UNDERHOOD was too much power for our applications, as it's rated for up to 40 CFM."
However, once the UNDERHOOD was installed on the van and his mechanics were using it, he had no more doubts.
UNDERHOOD40 Van Series Air Compressor Benefits
After having the UNDERHOOD40 Van Series Air Compressor for over three years, it's easy for Dennis to list his top three benefits:
Space Savings:
"Having the air compressor under the hood saves space inside the van and gives it a clean, open look. There's less clutter inside."
Quieter Operation
"We don't have a noisy air compressor on a truck right at ear level anymore."
Professionalism
"Having the van's equipment and tools organized gives it a clean, professional look. Having the VMAC air compressor tucked away under the hood is part of the professional look we're going for, and it feels like one less thing to worry about."
Investing In The Right Equipment & Tools
"Investing in the right tools for the job is part of the professionalism that Cullen Diesel is known for," notes Dennis. "The Sprinter van provides a modern look for our service vehicle and having an UNDERHOOD Air Compressor tucked away is part of that clean, professional look we're striving for."
Investing in the best quality air compressor is also important for his mechanics' day-to-day work. Dennis explains:
"Having an UNDERHOOD air compressor allows my team to work more efficiently, but it also improves morale. My technicians appreciate having high-quality equipment that always works, instead of struggling with a frustrating piece of equipment that doesn't perform."
And it's not just the improved look and morale that has Dennis praising VMAC's air compressor.
"The UNDERHOOD Van Series is cleaner, quieter, and quicker than our previous gas powered standalone air compressor," says Dennis. "Operation of the compressor is convenient and easy-to-use. You just push a button and it's working and producing full air power."
It's now been several years since Cullen Diesel first got their 4x4 Mercedes-Benz Sprinter van equipped with the UNDERHOOD Van Series Compressor, and so far, "it's done exactly what we want it to do," confirms Dennis. "The air power is there and there's been no issues and no downtime. It's been exactly as advertised."
And when asked for his advice to anyone who is thinking of upgrading to a UNDERHOOD Air Compressor, Dennis' answer is confident and succinct: "Do it!"
"I want to get another van, and when we do, it absolutely will have another UNDERHOOD40 Air Compressor on it," says Dennis.
Discover More: