5 Key Benefits of VMAC's Multifunction Power System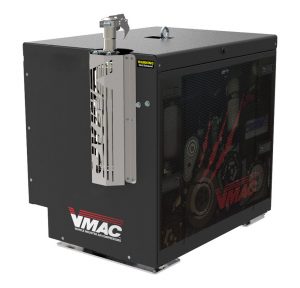 VMAC's Multifunction power system is one of the best ways to power your job site! Featuring electric, pneumatic, hydraulic and welding power in one tidy package, the Multifunction is an efficient and convenient way to power your equipment.
In this article, we'll talk about 5 benefits that make VMAC's Multifunction a smart choice for mobile operators who know how to get things done!
5. Design the exact system you want
Don't settle for less or pay for more than you need! With VMAC's Multifunction, you can design a multi-power system that meets your exact needs. Simply choose the components that are right for your work and we'll put it together in one convenient multi-power design.
Here are some of the choices you get to make:
Power source

Air Compressor only
Air Compressor with AC Generator and DC Welder with Battery Booster/Charger

Hydraulics

PTO w/ 5, 8, or 10 GPM @ 3,500 psi (max) pump
PTO port only
No PTO

Fuel Supply

Transfer Fuel Pump
7-Gallon Diesel Tank
None

Factory-Installed Options

Cold Climate Protection
Positive Air Shutoff System (PASS)
Terminal Strips for Generator/Welder
Receptacles for Generator/Welder

Case Color
There are many possible configurations that you can design with VMAC's Multifunction power system.
4. Easily switch between multiple tasks
You never know what you're going to encounter on the job site, but the Multifunction ensures you're ready to tackle it all. VMAC's multi-power system ensures you're ready to take on any task and allows you to quickly and seamlessly switch between welding, charging or boosting batteries, and operating both pneumatic and electric tools.
Small teams also benefit from the Multifunction's ability to run more than one power source at a time. For example, one person could weld while another grinds, as the sturdy Kubota engine produces up to 23.5 HP.
Check out what one of our existing customers has to say:
"I am impressed with the versatility of the VMAC Multifunction Power System. I can very quickly and easily go from using the on-board air system to welding and air arcing. The unit has been great, reliable and easy to use. I would highly recommend one if someone was setting up a shop/service truck."
– Great West Equipment
To summarize, the Multifunction makes your job easier by providing a simple yet effective way to power numerous types of tools and equipment at a time.
3. Free up space on your truck
VMAC's Multifunction system helps you save space by combining multiple power sources into one convenient package. You'll be able to power all your tools and equipment, without needing to carry space-consuming welders, generators, air compressors, and battery boosters as separate components.
Use your extra space for other equipment, more tools, or additional storage compartments!
2. Reduce GVW by up to 400 lb
A Multifunction power system allows you to reduce GVW by up to 400 lb. VMAC accomplishes this in two ways:
Combining multiple components into a single multi-power system uses space and weight more efficiently than having individual pieces of equipment.
VMAC intentionally chooses components that are compact and lightweight, without compromising on power or durability.
This innovative approach to design has paid off, as VMAC created a multifunction system that is notably lighter than competing brands offering comparable multi-power systems:
| | |
| --- | --- |
| VMAC 6-in-1 Multifunction | 570 lb |
| Competitor A | 852 lb |
| Competitor B | 832 lb |
1. Minimize vehicle maintenance & fuel costs
Turn your truck off on the jobsite and save big in engine hours and fuel costs! You also benefit from the VMAC's Multifunction's control system, which automatically idles the multi-power system's engine up or down with air demand, and also turns the engine off and on, as needed. These smart features help keep your money in your pocket.

You may also be interested in: