6 Reasons OEMs Choose VMAC Air Compressors & Air Ends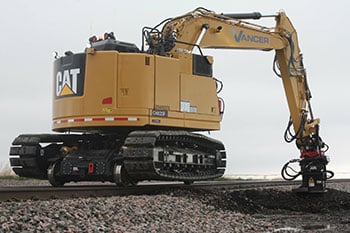 VMAC air compressor systems are known globally for their performance and reliability, so it's little surprise that many successful OEMs choose our air ends and air compressor systems for their custom applications. VMAC air ends can be found around the world in railway systems, heavy duty equipment, stock service vehicles, and countless industrial applications.
In this article, we break down the top 6 reasons that OEMs like Caterpillar, Cummins, Ford Industrial Engines, John Deere, and Lincoln Electric use VMAC air ends as their custom rotary screw air compressor solution.
1. 100% Duty Cycle
VMAC manufactures custom OEM rotary screw air compressors that can operate at 100% duty cycle, which means the supply of air is continuous. No time is wasted waiting for air, which makes VMAC air ends a good fit for certain continuous duty applications. By contrast, reciprocating air compressors are designed for approximately 25% duty cycle and often can't keep up with the air demand required for OEM applications. If your application needs continuous air, VMAC rotary air ends are a great bet.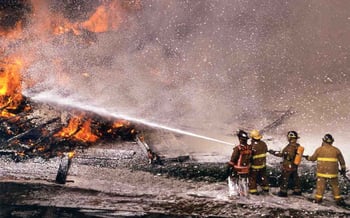 2. High CFM Output
Rotary screw air compressors offer a steady supply of air flow, resulting in a higher output of air than reciprocating air compressors can produce. VMAC rotary screw air compressors are powerful, and air end capabilities range from 10-30 CFM, 30-70 CFM, and 70-130 CFM.
3. Super Compact Design
VMAC air compressors are designed to be compact, with the ability to fit into tight spaces. For many OEMs, space is a major challenge, but VMAC's compact designs conserve space on any platform, and allow for more room to store other tools and equipment.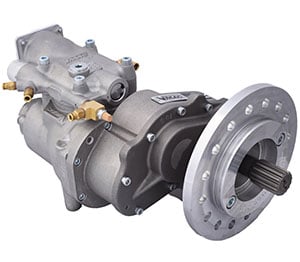 4. Lightweight, Durable Materials
In addition to being compact, VMAC air ends and air compressors are lightweight. Each system is designed with materials that will reduce weight without compromising on durability. At only 21 to 57 pounds, even our heaviest air end can keep your system's overall weight as low as possible. Our lightweight designs make VMAC air ends ideal for mobile industrial applications and the benefits include improved productivity, better fuel economy, and simpler mounting.
5. World Class Customer Support
OEMs will be pleased to know that VMAC's technical support team is available to help by phone, email, and online on the VMAC Knowledgebase. Should any challenges arise, our OEM team is available to help. We also have a talented and experienced support team that will be available to answer your operator's questions quickly and get them back to work faster.
6. Highly Customizable Systems
VMAC rotary screw air compressor systems can be designed to your exact specifications, allowing for a completely customizable solution. VMAC's dedicated OEM team will work closely with your engineering and design team to ensure your customized air compressor system is exactly what you need for your industrial engine application.

VMAC OEM Custom Solutions
VMAC custom air compressor solutions provide OEMs with high performing and reliable rotary screw compressors, designed specifically for your unique application. VMAC air compressors and air ends produce from 10-130 CFM at 100% duty cycle, and the air compressors are compact, lightweight, and customizable. Each system is backed by a superior technical support team.
Learn more about VMAC OEM, including applications, components, and mounting kits. Alternatively, you may contact the OEM team directly; call 1-888-514-6656 or send an online message to get started.