Air Compressor Options For Service Vans (2022)
Service van operators who need an air compressor have one of two options—a vehicle-integrated air compressor that mounts in their engine compartment, or traditional air compressors that mount in the cargo area.
UNDERHOOD™ Air Compressors For Vans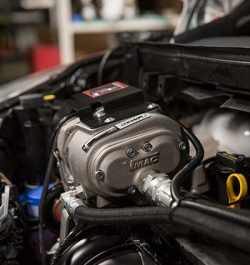 If vehicle weight is a concern, and commercial van payload is limited, you can choose equipment that not only reduces vehicle weight, but also frees up space, maximizes operator productivity, and eliminates common safety issues.
VMAC has engineered the UNDERHOOD™ 40, a 40 CFM rotary screw air compressor that mounts in the engine compartment on the most popular commercial vans. This is the only air compressor in the world with this capability and it has revolutionized mobile air for service vans.
Common applications that use UNDERHOOD™ 40 air compressors are:
Tire servicing
Utility/Telecom servicing
Forklift repair
Light duty contractors using small air tools
Common air tools that are powered by UNDERHOOD™ 40 air compressors are:
3/4" impact wrench
Light chipping hammers
Die grinders
Tire inflation
Traditional air compressors mounted in the van's cargo area can weigh as much as 375 lb, while UNDERHOOD™ 40 CFM air compressors weigh only 85 lbs. This means, by using a VMAC air compressor, you reduce as much as 290 lb in vehicle weight, and gain capacity for more tools and equipment.
Working closely with leading van manufacturers, VMAC ensures that mounting kits do not affect OEM warranties.
Cargo-Mounted Air Compressors For Vans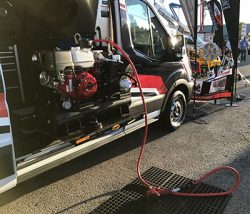 Mounting a traditional air compressor in the cargo area is the other air compressor option for service vans. If you work with service vans, you're probably already familiar with this solution, in which operators take an existing electric drive or gas drive air compressor and bolt it into the back of their service van.
Cargo-mounted air compressors offer a straightforward solution, and allow operators to choose from a wide range of existing reciprocating and rotary screw air compressors. It's a popular solution. However, traditional air compressors weren't built with service vans in mind, and there are several drawbacks:
Reduced Cargo Space
If you work out of a service van, you already know your cargo space is limited. Traditional air compressors are space hogs, taking up a significant amount of space that could be used as a workspace or to store additional tools and equipment.
Limited Power
Electric drive air compressors are a popular solution for service vans but they're limited in power. Most electric air compressors on the market today are not suitable for commercial work and don't have the power required for modern air tools.
Toxic Fumes & Gas Spills
Vans with gas driven air compressors require adequate ventilation to eliminate the build-up of toxic fumes. Most service vans don't have the airflow or space required to disperse these fumes, which presents a very real hazard to operators. The longer an air compressor runs inside the van, the larger the risk to anyone in the vicinity.
Further, gas driven air compressors require operators to fuel up their air compressor inside the cargo area. Spilled gas results in toxic fumes and presents an unnecessary fire hazard.
Choosing An Air Compressor For Your Service Van
Operators ultimately have three choices when considering air compressors for service vans:
Electric drive (cargo-mounted)
Gas drive (cargo-mounted)
UNDERHOOD (engine-mounted)
The right option will depend on your budget, space requirements, weight limitations, and general regard for safety. Consider your options carefully and talk with a trusted vehicle upfitter when making your decision.