Air Compressors For Mobile Tire Technicians In 2024
Mobile tire technicians keep the world moving. These professionals service vehicle tires on the side of the road and in remote, hard-to-reach locations. Mobile tire technicians must work quickly to minimize their time in dangerous places and reduce their customers' downtime. The right air compressor helps technicians meet this goal.
Tire technicians primarily use air compressors to power pneumatic impact wrenches and inflate tires. These are two critical tasks for techs, making air compressors a vital piece of equipment. Air compressors can also power other pneumatic tools, which is beneficial for tire techs who also perform automotive repair work.
Air Compressors Built For Service Trucks
While most air compressors are made for stationary applications, a few companies specialize in manufacturing air compressors for mobile applications. These mobile air compressors are specifically designed to mount onto service vehicles and withstand movement and vibration.
Mobile air compressors designed for service trucks tend to be smaller and lighter than their stationary counterparts—without compromising on power. Therefore, tire technicians who choose mobile air compressors benefit from reduced GVW, more space for other tools and equipment, and a nicer-looking vehicle.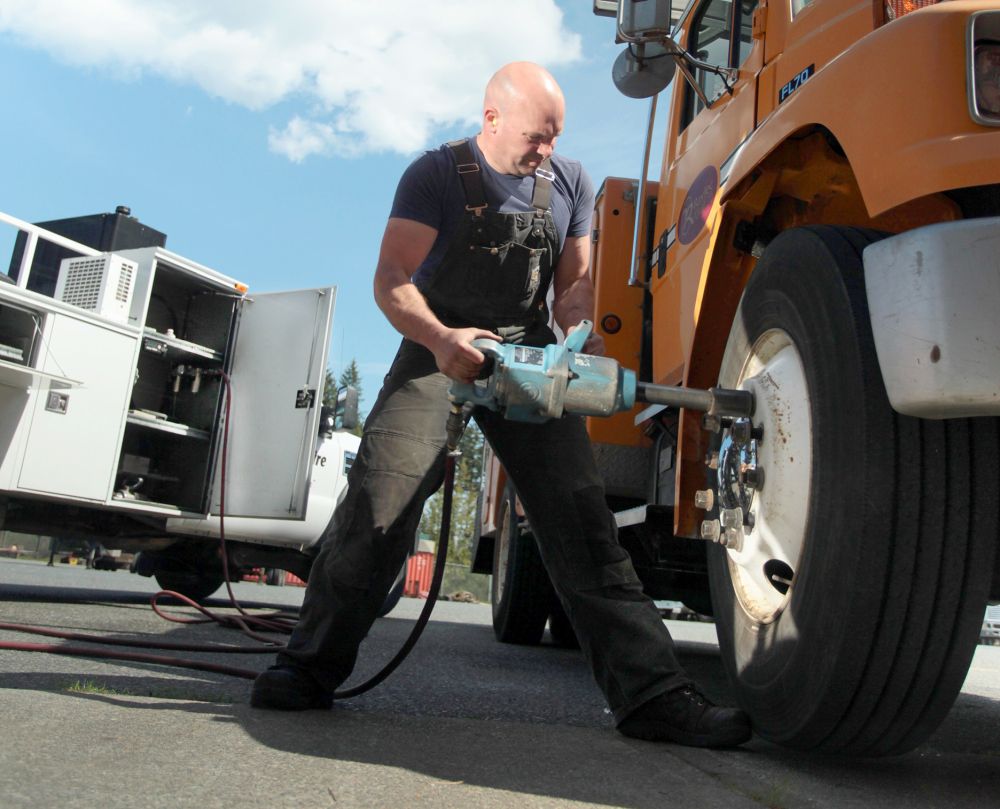 Work Faster With Rotary Screw Air Compressors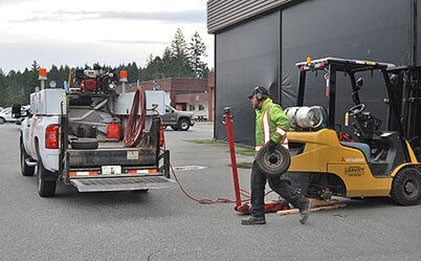 Reciprocating air compressors are a popular budget-friendly option within the tire industry. But, they come with a serious downside: reciprocating air compressors waste countless hours in the work year waiting for their air receiver tanks to fill.
Rotary screw air compressors, by comparison, don't need a large air receiver tank. While they come with a higher upfront price tag, they more than pay for themselves in productivity and ROI. Rotary screw air compressors eliminate the need to wait for a bulky air receiver tank to fill, saving minutes on every single tire.
How Much CFM Do Tire Technicians Need?
Tire technicians primarily servicing automotive tires don't need much CFM to do the job. A 3/4" impact wrench needs about 30-40 CFM, while a 1" impact wrench typically requires 60-70 CFM. Inflation can be done at any CFM, although the lower the CFM, the longer it will take.
Considering these CFM requirements, tire technicians can accomplish most tasks with a 30-40 CFM air compressor. However, technicians who regularly service heavy-duty tires greatly benefit from a higher CFM output. For these jobs, a 60-70 CFM air compressor is a good choice.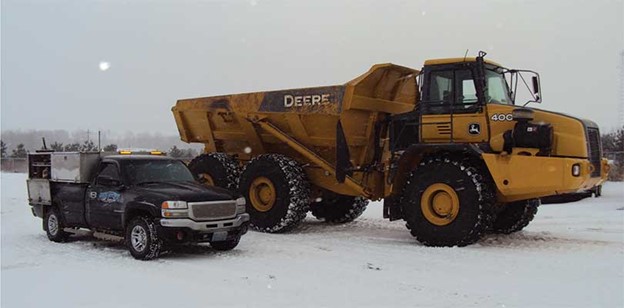 The Best Air Compressors For Mobile Tire Technicians
The best air compressors for mobile tire technicians are portable, rotary screw air compressors with enough CFM output to get the job done quickly. There are many options out there, ranging in price, size, weight, and power.
The most popular air compressor options for tire technicians include:
Gas Driven Air Compressors
Gas driven air compressors are the most popular type of air compressor on tire technician's trucks. They are affordable, easy to source, and simple to operate. All of these factors make them a smart choice for mobile air.
However, not all gas driven air compressors are created equal. There's a joke in the industry that you should kick reciprocating air compressors off your truck when they break because they aren't worth the time to fix. Gas air compressors can also be bulky, taking up more space than they deserve. Fortunately, there are better options out there.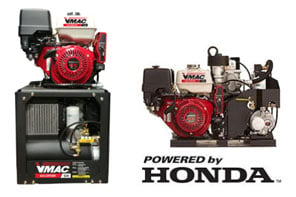 VMAC manufactures an affordable 30 CFM gas driven air compressor for tire technician vehicles. As a result, it's smaller, lighter, and more powerful than alternative options. VMAC's rotary screw air compressors are also backed by a limited lifetime warranty and are proven in the field.
"The G30 is fast with air. That's the nice part. [Work is] less frustrating with the G30. It gets the jobs done faster," said Bill of Ziegler Tire, an automotive and tire business with 22 locations in Ohio, Kentucky, and Pennsylvania.
"For the quality and the money, you can't go wrong. We've installed and tested three, and now we have three more G30s ordered to add to the fleet."
Diesel Driven Air Compressors
Diesel driven air compressors are another popular option for tire technicians in North America. These air compressors make sense for technicians who operate diesel vehicles. Once again, rotary screw diesel air compressors tend to offer the most power for their size, making them the optimal choice.
When choosing diesel air compressors for tire work, it's best to select an air compressor that's small and lightweight but still powerful. The best diesel rotary screw air compressors for mobile work produces 60 CFM of air and weighs only 415 pounds.
More sophisticated diesel air compressor installations can also plumb right into the truck's fuel supply, allowing technicians to simply fuel up their vehicle and get to work.
UNDERHOOD™ / Engine-Driven Air Compressors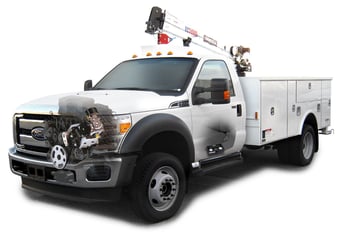 Another popular air compressor for tire technicians is VMAC's UNDERHOOD™ 70 air compressor. These vehicle-integrated air compressors mount within the engine compartment of a truck, which means they don't take up a single inch of deck space.
The UNDERHOOD70 provides up to 70 CFM of air and inflates tires faster than alternative options, saving significant time on every job site.
"Inflating a truck tire with a traditional reciprocating compressor takes six-and-a-half minutes to inflate to 120 psi. It takes two-and-a-half minutes with my UNDERHOOD air compressor. I save four minutes on every tire," said Keith Kitchen, owner of Keith Kitchen Full Service Tire.
"These air compressors are so efficient. I buy 1-inch Snap-on impact wrenches. When we check the torque, 99% of the time, it is within torque specs. With the UNDERHOOD running at a consistent pressure, I'm within 5 pounds every time. Last year, we serviced 5,000 truck tires—that's 20,000 wheel nuts. I wear my impact wrenches out every year, and I already have 145 hours on a 2-month-old truck, yet all my VMAC air compressors are still working."
Hydraulic Air Compressors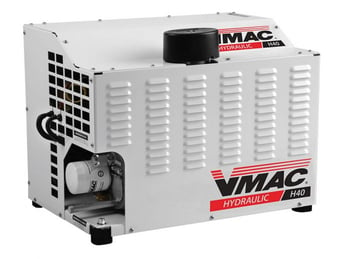 Hydraulic air compressors are an excellent option for tire technicians with a truck that already uses hydraulic power. Hydraulic air compressors are already a common choice for fleets across North America and continue increasing in popularity.
VMAC's hydraulic air compressors are hardy and reliable, with minimal maintenance and servicing requirements. They work hard and offer a straightforward, fuss-free mobile air solution for any climate.
Check out the most innovative hydraulic air compressors on the market today.