Battery Powered vs. Pneumatic Tools: Which Are Better For Mobile Work?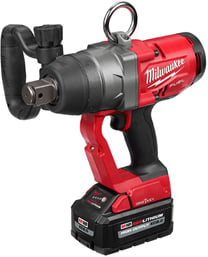 Battery powered tools are for hobbyists and pneumatic tools are for real work… At least, that's the perception that many people have had over the past couple of decades.
Traditionally, mobile service operators favored pneumatic tools, partially because they were more powerful than the electric alternatives. The largest battery powered electric impact wrenches were ½" and anyone who needed tools with serious torque, such as a 1" impact wrench, would automatically default to pneumatic options. But it looks like change may be on the horizon…
Milwaukee recently released a battery powered 1" high torque impact wrench that rivals other impact wrenches on the market. The M18 impact wrench produces 1500 ft-lb of fastening torque and 1800 ft-lb of nut breaking torque at a cost that's comparable to its competitors. It also weighs half as much as the pneumatic alternatives, which makes the M18 easier to lift.
Take a look at the weight of the M18 compared to some of its rival impact wrenches:
1" High Torque Impact Wrench Comparison
| | | | | |
| --- | --- | --- | --- | --- |
| | M18 Milwaukee | Makita TW1000 | Ingersoll Rand 285B-6 | Chicago Pneumatic CP7782 |
| Power Source | Electric Battery | Electric Battery | Pneumatic | Pneumatic |
| Weight | 12.9 lb (with battery) | 19 lb | 27.8 lb | 29.07 lb |
| Fastening Torque | 1,500 ft-lb | 738 ft-lb | 1,475 ft-lb | 1,475 ft-lb |
| Nut Breaking Torque | 1,800 ft-lb | Undisclosed | 1,475 ft-lb | 1,920 ft-lb |
Why Pneumatic Tools Still Beat Battery Power Alternatives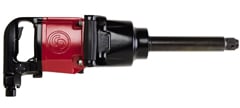 Now, the Milwaukee is currently the most powerful 1" battery powered impact wrench and it's probably making some pneumatic tool execs sweat, but it still has nothing on some of the pneumatic tools out there. If you need more than 1,800 ft-lb of nut breaking torque, you're back into de facto pneumatic territory. For example, Chicago Pneumatic (CP) and Ingersoll Rand (IR) both have 1" impact options that easily exceed those capabilities:
| | | | |
| --- | --- | --- | --- |
| | CP796 | CP5000 | IR 2850MAX |
| Fastening Torque | 1,400 ft-lb | 2,065 ft-lb | 2,000 ft-lb |
| Nut Breaking Torque | 2,000 ft-lb | 2,500 ft-lb | 2,100 ft-lb |
More Choice With Pneumatic
Pneumatic tools also make the most sense when you want options. While the M18 may be a market disrupter, it's essentially the first of its kind. You get what you get: By contrast, pneumatic tool brands have been cranking out high torque options for decades, which means there's a huge range in size, weight, cost, features, ergonomics, and styles to choose between. If you want options, pneumatic makes the most sense.
Pneumatic Tools Are Tried & True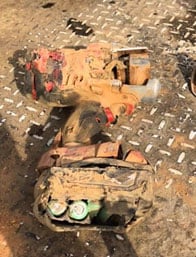 We'll also have to see how durable battery powered tools can be. The M18 was released in May, which means nobody has had the opportunity to test its longevity yet. Can it withstand everyday work for a whole year? How many times can you drop it before it breaks? How much work will a battery charge accomplish? How many spare batteries will I need to buy and carry? How long will the battery live and what is its replacement cost?
Electric battery powered tools have a reputation for being less hardy than pneumatic tools because they contain more moving parts, including an integrated motor. This makes them more susceptible to wear, tear, and operator abuse. Being able to withstand the hardships of everyday work is a bare minimum requirement for any tool, so only time will tell if electric models can truly replace pneumatic options.
Batteries & Other Power Sources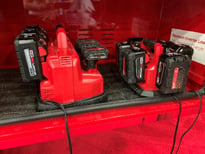 And finally… let's talk more about batteries. Nothing stops work faster than dead batteries. Batteries on electric tools need to be recharged quite regularly and outlets aren't always available on the road, which means mobile service operators need an inverter and bank of spare batteries on the truck.
As a result, operators must have and maintain two separate power sources on board: diesel or gas to fuel the vehicle, plus electricity. By contrast, the air compressors that power pneumatic tools typically tie into the engine or PTO, or use the existing fuel source. Air compressor systems only require the existing power sources, which makes pneumatic tools a more practical and straightforward mobile solution.
Battery Powered Tools Other Than Impact Wrenches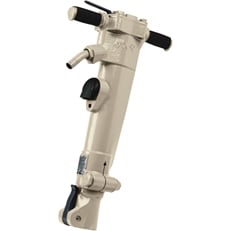 This article focuses on 1" impact wrenches because it's one of the most popular tools out there. When we see brands like Milwaukee release bigger, better tools, we get a glimpse of where their R&D is focused and it's a great indicator of where battery powered tool manufacturers are headed in the future.
But what about other tools, right now? While we're seeing small gains for medium sized electric tools, there's not as much new innovation on the larger tool front. Powerful tools need powerful power sources.
When it comes to pavement breakers and jackhammers, impact wrenches over 1 ½", and compression tools, it's hard to beat the pneumatic options on the market. Battery tools may not ever be able to properly handle big jobs like track bolts, heavy equipment repair and OTR work.
Should You Work With Battery or Pneumatic Tools?
We're an air compressor manufacturer so our bias is always towards air. It's powerful, effective, and downright cool. But at the end of the day, the right answer to this question is going to vary by the individual and the work they do. Open the toolboxes on most service trucks, and you'll see a mix of pneumatic, electric, and manual tools.
We're definitely in the midst of an innovation leap for battery powered tools so it is possible that more pneumatic tools will be replaced in the future. But for now, air tools are still the winners when it comes to durability, power, and diverse options. That makes them the clear choice for mobile operators who want a single, straight-forward power source for all their tools.