Commercial Van Market Growth Creates New Equipment Opportunities
Commercial van sales data from the NTEA (National Truck Equipment Association) reveals that commercial van sales continue to trend upwards, with each year surpassing the sales numbers from the year before. Between 2013 and 2019, commercial van sales increased by 56.7%.
Total Van Sales in North America
2013: 224,723
2014: 239,646
2015: 282,216
2016: 292,096
2017: 301,349
2018: 317,163
2019: 352,288
With all this consistent growth, it's understandable that vehicle manufacturers have expanded their offerings, presenting buyers with different commercial and cargo van options including van chassis, height, engines, and drive trains. Manufacturers of commercial vehicle equipment have expanded their product lines as well, with equipment designed specifically for commercial cargo vans.
But why are commercial vans rising in popularity? Let's look at how we got here.
A QUICK HISTORY OF THE COMMERCIAL VAN INDUSTRY
Back in 2007-2008, the recession forced many businesses to make substantial changes or risk forever closing their doors. But the companies that managed to adapt were stronger, finding innovative ways to revolutionize the industry.
Ford and GM reinvented themselves and came out of the recession by adapting their vehicle lines to meet new market demands. The manufacturers looked to Europe and saw the timely opportunity to bring Euro-style commercial vans to North America.
Commercial vans cater to business owners and fleet managers looking to "right-size" their fleets to achieve maximum efficiency and profit—a winning formula for conquering a recession. Vans offer more cargo space, easy maneuverability, and better fuel efficiency, all at a lower price than traditional trucks.
The recession eventually ended but commercial vans were here to stay.
TYPES OF COMMERCIAL VANS: STANDARD VANS, HIGH ROOF VANS
Over the past decade, commercial vans have increased in popularity in North America. Their popularity surged in 2012 and has been steadily rising since. The National Truck Equipment Association (NTEA) has defined 5 OEMs as manufacturers of commercial vans:
Ford
GM
Mercedes-Benz/Freightliner
FCA – Ram
Nissan
Commercial vans can be defined as both passenger vans (shuttles or taxis), or cargo vans, with two seats in the front and cargo space in the back. In addition, commercial vans can be segmented as standard roof vans or high roof vans.
High roof vans allow for people to stand up in the back of the cargo area—this segment of commercial vans is responsible for the surge in popularity over recent years. High-roof van sales more than doubled between 2015 and 2019.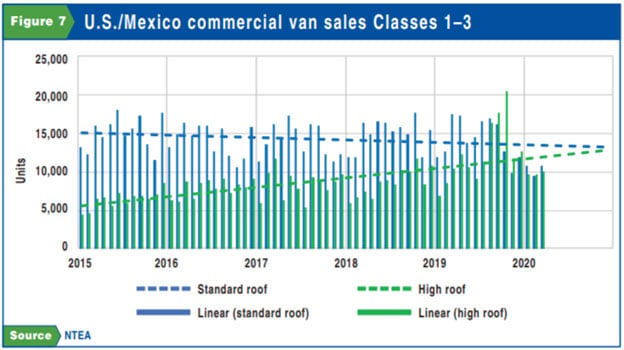 If the current trend continues, 2020 may be the year that high roof vans overtake standard roof vans in sales. According to the NTEA's Commercial Van Overview and Market Data Insights report, "From 2013–2018, standard roof-height models dominated the market. Throughout that period, high roof-height model sales grew faster than standard roof-height. For 2019, Class 1–3 standard roof-height sales were still greater than high roof-height sales, but the balance shifted in the second half of the year. From July–December 2019, high roof-height sales were greater than standard roof-height."
VMAC VAN SERIES AIR COMPRESSOR: THE ONLY AIR COMPRESSOR SPECIFICALLY ENGINEERED FOR COMMERCIAL VANS
Though there's increased opportunity and demand for a mobile air compressor for commercial vans, air compressor manufacturers have been slow to adapt their products for this popular style of commercial vehicle.
Many compressor manufacturers can only offer vehicle upfitters the option to put a standalone gas or diesel unit in the cargo area of their customer's van. This solution not only takes up valuable space in the cargo area, but it also creates an unsafe working environment for operators, who are exposed to toxic fumes and the risk of gas fires.
Another option is a low cost, low output electric air compressor driven off an inverter. The downside to this option is that it is not designed for commercial applications, producing only a small amount of air for short periods of time.

There is, however, a better alternative: the UNDERHOOD™ 40 Van Series Air Compressor. The VMAC Van Series Air Compressor is the only air compressor specifically engineered for commercial vans. This desirable option frees up to 10 cubic feet in the van cargo area, reduces vehicle GVW by almost 300 pounds, eliminates common safety issues, and can produce up to 40 CFM at 100% duty cycle.
The UNDERHOOD™ 40 – Van Series is a must-have for anyone who is looking to upfit their cargo van with an air compressor. For vehicle bodybuilders and upfitters, this air compressor is available for the Ford Transit, Ford Transit Connect, GM Savana G Series and Express, and the Mercedes-Benz / Freightliner Sprinter.
Learn more about VMAC's Van Series Air Compressor.
Related blogs: