Honda Air Compressors: Everything You Need To Know Before Buying…
Honda air compressors are seemingly everywhere. Buyers who do research into gas powered air compressors will quickly notice an abundance of air compressors with beautiful red Honda engines. There are a lot of options out there! But before making a final decision, read this guide to find out everything you need to know.

1. Honda Air Compressors Are a Myth
Alright, let's rip the band aid off and get straight to the truth of the matter: there's no such thing as a Honda air compressor. Honda doesn't make air compressors!
Rather, Honda supplies small engines to air compressor manufacturers who then use those engines in their gas powered air compressors. Honda simply provides one component of a much more complex system, and that component just happens to be very visible and recognizable.
The air compressor itself belongs to the manufacturer, whose engineers will include the Honda engine in their overall design. At the end of the day, there are VMAC air compressors, Ingersoll-Rand air compressors, Sullair air compressors, and so forth—but "Honda air compressors" simply don't exist.
2. Air Compressors With A Honda Engine Are A Great Start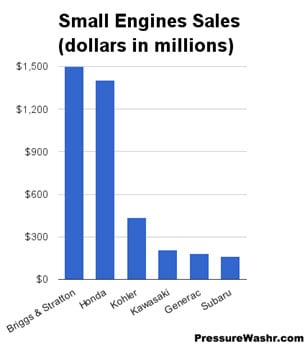 Honda is currently the most popular small engine supplier for air compressors in North America. According to research by PressureWashr.com, the only company that out-sells Honda in small engine sales is Briggs & Stratton. But Honda has a reputation for better longevity and backs it up with a 3 year warranty (compared to B&S' 12-24 month warranty on similar engines), making it a more reliable choice for air compressor manufacturers.
People love Honda engines for many reasons, including:
Powerful performance
Reliable & durable
Quick and easy to start up
Greater fuel efficiency
Relatively quiet when in use
To learn more about Honda's additional competitive advantages in the small engine space, check out their own "Why Honda?" page.
3. Not All Honda Engines Are Equal
Air compressor manufacturers that use Honda air compressors tend to stick with the horizontal crankshaft GX series, which is a series of bright red commercial engines. The GX series engines use unleaded 86 octane or higher fuel (easily sourced at every gas station on the continent) and are backed by a 3-year warranty from Honda.
But even the GX series has a wide range of engines, which vary greatly in performance and capability. Take a look at some stats from Honda's own comparison tool:
| Honda GX Engine | Net Power (@ 3,600 rpm) | Net Torque (@ 2,500 rpm) |
| --- | --- | --- |
| GX120 | 3.5 HP (2.6 kW) | 5.4 lb-ft (7.3 Nm) |
| GX160 | 4.8 HP (3.6 kW) | 7.6 lb-ft (10.3 Nm) |
| GX200 | 5.5 HP (4.1 kW) | 9.1 lb-ft (12.4 Nm) |
| GX270 | 8.5 HP (6.3 kW) | 14.1 lb-ft (19.1 Nm) |
| GX340 | 10.7 HP (8.0 kW) | 19.5 lb-ft (26.4 Nm) |
| GX390 | 11.7 HP (8.7 kW) | 19.5 lb-ft (26.4 Nm) |
The specs above are just the tip of the iceberg. These engines also vary in size and weight, compression ratio, ignition, governor and starting systems, carburetor, oil capacity, and so forth. But for just a general rule of thumb: the higher the GX series number, the better the Honda engine.
4. There's A Lot More To Air Compressor Technology
A Honda engine is a great way to power an air compressor, but it's only one component of a much larger system. Air compressor systems vary significantly and there's a lot to consider before buying a new system. Fleet managers or operators who want to purchase a gas powered air compressor should take a bit of time to understand the basics and learn what to look for in an air compressor with (or without) a Honda engine.
Get started by reading these articles now: