Poll Results: How Many Hours Do You Work Each Week?
VMAC recently surveyed 1,058 people in the mobile compressed air industry and found that 60% of survey respondents work more than 45 hours per week. Further, 47% of survey respondents log more than 50 hours of work each week, which means nearly half the industry works the equivalent of an extra 8-hour workday every week.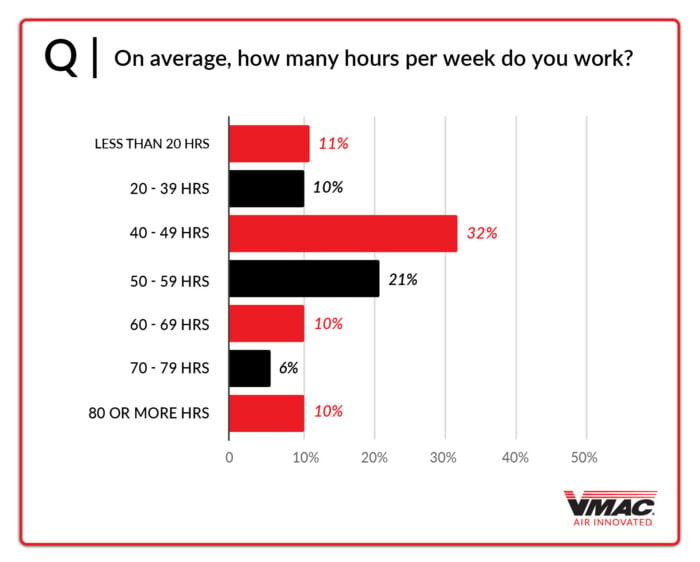 The U.S. Department of Labor set the 40-hour work week as a legal employment standard two years after the induction of the Fair Labor Standards Act, in 1940. Since then, it has been widely accepted that a full work week is comprised of 40 working hours. Canada has similar laws under the Canada Labour Code, which defines standard hours of work as 8 hours in a day and 40 hours in a week.
Is More Than 40 Hours Too Much?
Henry Ford certainly thought so. Back in 1926, the Ford Motor Company leader changed the world when he adopted a 40-hour, 5-day work week in his automotive factories. Prior to this decision, it was the norm for workers to devote six days to work every week, putting in hours similar to the survey respondents.
While part of Ford's decision was influenced by work-life balance, productivity was the primary driving force. Henry Ford recognized that people who are well rested and have enough personal time for hobbies and loved ones are more productive and useful within the workforce. Ford also knew that people needed time to spend their money to stimulate the economy.
This was a significant mind shift for industrial America, which had previously equated productivity strictly to "hours on the job." Yet, it was only the start of a wider labor movement that would fight for better working conditions and standards, until the adoption of the Fair Labor Standards Act in 1938.
Today's Normal Working Hours By Industry
Today, normal working hours are all over the place. Many North Americans consider their hours worked a source of great pride, while others emphasize the need for more "life" in the work-life balance. Studies, experts, and workers don't seem to agree what a normal work week should look like.
However, the U.S. Bureau of Labor Statistics does collect data on the number of hours worked by employees across the country. Over the past 5 years, the average weekly hours of all private employees has never surpassed 35 hours per week. In fact, it only reached 35 hours per week once in recent history, in January 2021: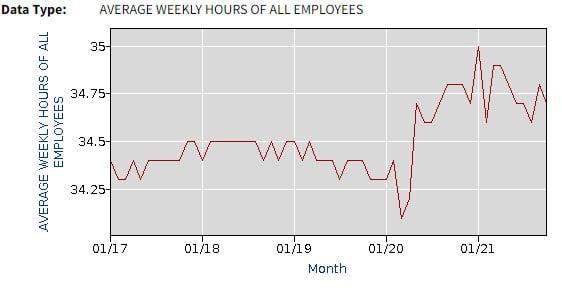 (Source)
But when looking at data by specific industry, the average hours worked per week are much closer to the standard 40-hour workweek for many sectors. The following chart displays the average weekly hours of employees, seasonally adjusted, by industry:
Industry
Average Weekly Hours
(October 2021)
Chemicals
39.9
Construction
38.7
Hardware
38.5
Information
36.8
Machinery
41.3
Manufacturing
40.3
Millwork
41.1
Telecommunications
39.0
Utilities
42.0
Utilities, machinery, manufacturing, and millwork are all industries that exceeded a 40-hour work week, on average, in October 2021. Many of these industries rely on mobile air to perform critical tasks, so it's unsurprising the results are fairly consistent with VMAC's recent survey.
Improve Productivity & Reduce Working Hours
"VMAC learned that the 40-hour workweek is actually closer to a 50-hour workweek for most. We know that the industry is strong, with plenty of work to be done, and we know our customers are logging 10 to 12 hours a day," said Mike Pettigrew, Marketing Manager at VMAC.
Fortunately, the right tools and equipment can help improve productivity and may even reduce working hours, in certain cases. VMAC's air compressors were purpose-built to maximize productivity, allowing workers to complete critical jobs in as little time as possible.
"At VMAC, it's our mission to ensure our air compressors and multi-power systems keep up with our customers, providing reliable air and power on demand, ensuring those long workdays stay productive," said Mike Pettigrew.
"We have a tire service customer in Ontario with a three-truck fleet upfitted with UNDERHOOD™ air compressors. His business services over 5,000 trucks a year. He told us that he saves 4 minutes on every tire, which is a savings of about 333 hours every year. We take pride knowing that VMAC's rotary screw air compressors help him invest more time in his business, visit more customers, and spend more time with his family."
Read the full details of that tire service job story here.