Southern Tire Mart's Quarry & Mining Manager Put VMAC's DTM70 Air Compressor To The Test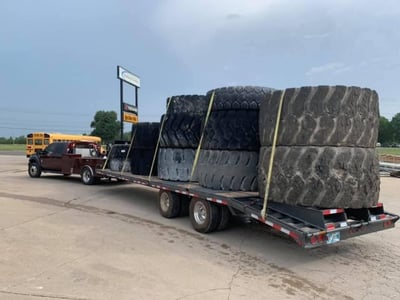 When Rick Fleenor had the chance to test the first VMAC Direct-Transmission Mounted air compressor in the United States, it was an opportunity he couldn't pass up. Two years later, Rick has no regrets.
Rick is the Quarry & Mining Manager at Southern Tire Mart, where he works alongside a fleet of over 1500 vehicles. He uses his personal work truck, a 2015 Ford F-550, to service heavy duty OTR tires.
"I do a lot of service and maintenance on construction fleets and mining fleets. I check all the tires and use an air compressor to maintain tire pressure," said Rick.
Trying out the new DTM70 was an easy "yes" for Rick, who was already familiar with VMAC's line of UNDERHOOD air compressors.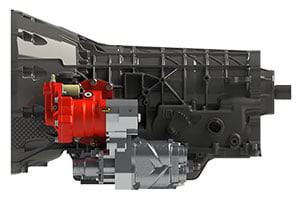 "My career in the tire industry spans over 45 years, and I'm used to seeing VMAC compressors under the hood. When I had this new truck built, my dealer at Arrowhead called and said they had a brand new VMAC system that used the PTO drive. I said, 'Great, sign me up!' I couldn't pass up the opportunity to try it."
Arrowhead Truck Equipment is a certified VMAC Dealer located in Bixby, Oklahoma, an easy 20 minutes from Southern Tire Mart's Tulsa headquarters.
It's been a couple years since Arrowhead installed Rick's DTM70 and he now knows it was the right call. The DTM70 is dependable, easy to use, and enables Rick to provide fast and efficient service to his Southern Tire Mart clientele.
"The DTM70 is convenient and reliable," said Rick. "There's also very little maintenance to speak of—all you have to do is check the air filter occasionally—so there's no downtime. Just 100% uptime."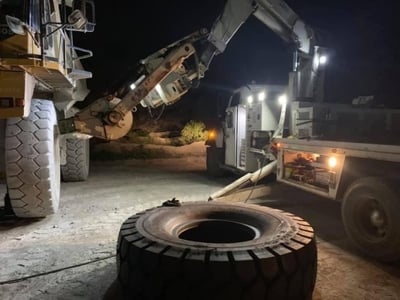 Before using the DTM70 system, Rick had to transport a gas drive compressor on the back of his truck. This led to the same challenges many workers in the tire industry experience: reduced space and increased weight, the need to constantly transport gasoline, and quite a bit of inconvenience.
"The gas compressor was always a pain," said Rick. "I'd have to carry fuel, tie the compressor down, and it took up too much space."
The DTM70 solved these problems overnight, providing 70 CFM of air in a compact system that's completely out of sight. Anywhere the F-550 goes, the air compressor is ready to work.
Southern Tire Mart has built a reputation on high quality workmanship and strong customer relationships. It's their ability to provide world-class service to fleet managers and business owners that has kept Southern Tire Mart in business for the past 45 years, so it only makes sense that Rick has high expectations of his equipment.
"I know there are lower priced products out there, but I wouldn't hesitate to buy a VMAC again. You get what you pay for and it's just the best PTO driven system available," said Rick. "The DTM is awesome. It always works!"