The Big Problem With Online Gas Powered Air Compressor Reviews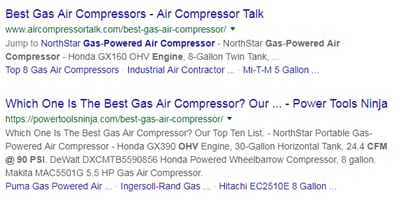 If you're like a lot of people, you do at least some of your research online. We rely on search engines, such as Google, to show us the best results for our searches and, when we search a term like "best air compressors", we assume the results are mostly accurate.
Unfortunately, this isn't always the case. There has been a significant and worrisome rise in fake gas powered air compressor reviews, and these fake reviews exist for one simple reason: affiliate sales.
Affiliate programs pay a commission to online salespeople who sell their product. And while the concept is similar to traditional commission structures, there's one very big difference—anyone can become an affiliate salesperson. There is no interview or qualification process, and online sales people can promote literally any product that catches their fancy, air compressors included.
Review Sites Don't Share The Best Air Compressors
As a result, affiliate-funded websites aren't sharing the best air compressors—they're sharing the best paying air compressors. Every time someone buys an air compressor through one of their links, they get a payout of up to 8%.
This is a big problem. Affiliate sales people limit their reviews to the products available in the affiliate catalogue. As a result, many of the best air compressors will never be considered for these review sites, because they aren't listed on Amazon or the like. In fact, many quality air compressor manufacturers only sell through authorized dealers and would never list their products for direct sales on an affiliate website.
Who's Writing These Reviews Anyway?
Let's look at this from another angle: the people who are the most successful at affiliate linking are marketers, content writers, and SEO experts who know how to drive traffic to their websites. They may know a little bit about air compressors, or they may know nothing at all, because actual product knowledge isn't a requirement for successful affiliate sales.
It's highly unlikely that most content marketers earning about $50 to $200 per sale are purchasing and using the air compressors they are reviewing. Instead, it's common practice in affiliate sales to rehash product descriptions, spec sheets, and other information found online, to try to entice buyers into purchasing any one of the available affiliate products.
Top "Recommended" Air Compressors
We looked at the top 10 sites that appeared in Google for "best gas air compressors" and cross-referenced their recommended products. Without fail, every single one of them was a product from Amazon's affiliate program.
Brand
Example Image
Product(s)
Amazon Affiliate?
Industrial Air
Industrial Air Contractor CTA5090412
Yes
Ingersoll-Rand
Ingersoll-Rand SS3J5.5GH-WB
Ingersoll Rand IRTC2475F13GH

Yes
ROLAIR/Rol-Air
ROLAIR 4090HK17 5.5 HP
Rol-Air Air Compressor GX200
Rol-Air Air Compressor 6590Hk18

Yes
Puma
Puma Gas Powered Air Compressor PUK-5508G
Yes
NorthStar
NorthStar Air Compressor – 8 Gallon
NorthStar Portable Gas Air Compressor – 20 Gallon
NorthStar Portable Gas Air Compressor – 30 Gallon

Yes
Makita
Makita MAC5501G 5.5 HP Gas Air Compressor
Makita MAC2400 Big Bore

Yes
DeWalt
DeWalt DXCMTB5590856 Honda Powered Wheelbarrow Compressor
Dewalt Subaru Wheelbarrow Gas Air Compressor
DEWALT D55154 | 4 Gallon Electric Air Compressor
DeWalt DXCMTA5090412

Yes
Hitachi
Hitachi EC2510E 8 Gallon Gas Powered Air Compressor
Yes
All of the gas powered air compressors listed above are part of Amazon's affiliate sales program. Does that mean they're bad air compressors? Who knows! …But that's exactly the problem.
Affiliate programs make it impossible to know whether a suggested product is "the best" or if it's just being promoted that way because it's an easy pay cheque. Because of this bias, reviews for affiliate products are useless to the buyer who is trying to find legitimate information.
Why Gas Powered Air Compressors Are Popular Targets
Gas powered air compressors and small portable air compressors have fallen victim to the affiliate game, but we don't see the same problem with PTO driven, vehicle-integrated or hydraulic air compressors. Why?
It's because gas powered air compressors can be installed without a professional upfitter and fall into a lower price point. These two factors make it easier to buy and sell gas powered air compressors online, while more sophisticated air compressor systems rely on a true expert to help.
How Affiliate Air Compressor Sales Works
The affiliate sales process is a fairly simple concept that almost anyone can execute. Here are the 5 steps it takes to sell air compressors through an affiliate program.
Step 1: An internet savvy salesperson signs up for an affiliate program, such as Amazon's.
Step 2: Once registered, the salesperson searches the database for products they can promote: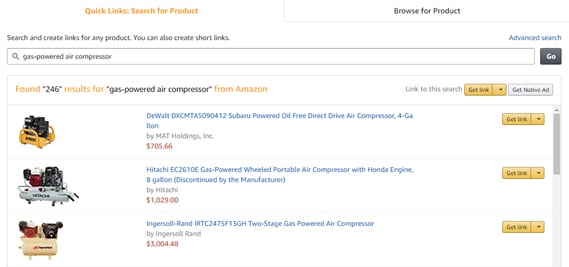 Step 3: The salesperson then adds a link to their site, writes some info about the product, and creates an article around the products they want to sell. They position these products as "the best" and provide a few different options to hook buyers.
Step 4: Buyers find the site and purchase the product through the affiliate link.
Step 5: The salesperson earns a commission.
The most challenging part is getting people to their site in the first place. But, as proven by all the affiliate links on the search results page for "gas powered air compressors", it's not that hard.
People are willing to create entire websites around the products they are hoping to sell and those websites can be pretty convincing.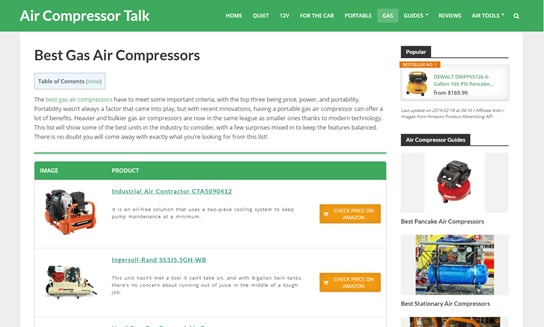 How To Find Legitimate Air Compressor Reviews
Now that we've established there's some inaccurate, self-serving information on gas powered air compressors, how do you find trustworthy reviews?
First, you need to know what to protect yourself against. The following are some tell-tale signs of an affiliate product:
Button that says, "Buy Now", "Click For Price", or similar
Links to products on Amazon or eBay
Disclosure about affiliate products

Disclosures add some transparency (and legal protection) but a lot of sites don't bother with them. For example, none of the top 10 articles analyzed for gas powered air compressors included an affiliate product disclosure.
Next, you need to find reputable sources of air compressor information. Let's discuss a couple of options for gathering reputable air compressor reviews.
Ask Expert Air Compressor Dealers
The best way to find an honest opinion about air compressors is through local air compressor dealers. Find a couple of experts in your area and then visit them in person to ask about your options and get their feedback.
If a Dealer has got your back, they'll listen to what you need first and then provide a solution that works for your industry and application.
Ask Your Colleagues & Peers
Peers in the industry you work in are another great source of air compressor information. Ask what they're using and what they think of it. Just ensure you ask around, as personal opinions can vary greatly.
A few places you can get peer feedback include:
In-person / on-the-job
Facebook groups
Tradeshows & conferences
Most people are perfectly happy to help a fellow expert out and share their genuine opinion with you.
If you're in the market for a gas drive air compressor, skip the online affiliate reviews and talk to someone who will give you a more objective opinion. You'll thank yourself in the long run.
Additional Resources & Articles
You may also be interested in: