VMAC's G30 Gas Engine Driven Air Compressor, Powered by Honda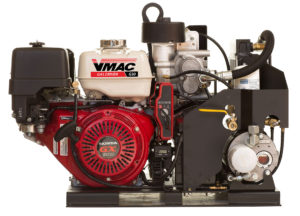 After years of development and testing, VMAC released the updated G30 Gas Engine Driven Air Compressor, powered by Honda, in 2017. Several years later, the G30 is still the best choice for operators using air tools for light-duty applications and has been proven by mobile mechanics, tire service technicians, and light-duty contractors.
VMAC's G30 is the most affordable gas driven rotary screw air compressor available, providing lightweight, compact, and powerful performance for mobile work truck applications:
50% lighter*—weighing only 205 lb
Weight challenges are minimized with the VMAC G30, which weighs 50% less* than other competitive air compressors. Weighing just 205 lb (93 kg), the G30 is over 200 lb lighter.
Not only does every pound of GVW count when building a truck service body, especially because vehicle weight restrictions vary by state, but the Environmental Protection Agency reports that for every 100 lb of weight reduction, a vehicle's fuel economy can increase by up to 2%. With 200 lb less weight, the VMAC G30 can save you up to 4% in truck fuel costs.
50% more powerful*—30 CFM, 100% of the time
Producing 30 CFM 100% of the time, the G30 can operate at 100% duty cycle, which means you won't have to wait for air to build, and you can work without interruption, thanks to continuous air supply. Typical gas driven reciprocating air compressors produce approximately 20 CFM and can only operate at 50% duty cycle, which is why they require large air receiver tanks.
50% smaller*—measuring just 34" (l) x 21.5" (w) x 24" (h)
The compact size of the G30 frees up to 15 cubic feet on the truck body, and it can even fit on the side pack of a single rear wheel service body. This leaves more room in the back of the truck for supplies, tools, and equipment. Visibility is improved as well, because the short height of the G30 means that it won't obstruct the view in the rear window.
In 2020, VMAC released the stacked version of the G30. This design significantly reduces the amount of vehicle space required, allowing the G30 to fit either in the rear service body compartment or in the bed of a pickup truck.
Operates in extreme temperatures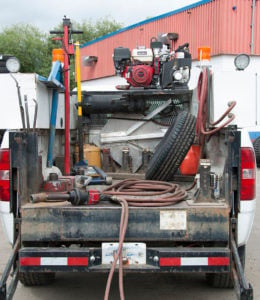 To ensure the air compressor can operate in extreme cold, a cold climate kit can be installed on the G30. The G30 with cold climate kit is proven to start-up at temperatures of -30°C (-22°F).
The G30 is also proven to operate at temperatures up to 40°C (104°F) and is protected by a compressor oil temperature switch that opens at 140°C (284°F) and shuts down and disables the engine until the oil temperature drops below 139°C (282°F).
Note that due diligence and additional care is required for prolonged operation in temperatures reaching below -15°C (5°F).
Easy transferability
The VMAC G30's lightweight and compact design makes it easier to transfer than heavier air compressors weighing over 400 lbs. The lifting hook makes for easy installation on the service truck as well.
Simple maintenance
The VMAC G30 is easy to maintain, with servicing recommended every 200 hours or every six months. The compressor is oil injected; oil forms a seal between the rotors, so they don't wear against each other. The G30 compressor doesn't contain any gears, reed-valves, piston rings, or components that will fatigue or become fouled, which means with proper servicing and operation, the compressor should never require rebuilding.
Lifetime warranty (limited)
VMAC G30 owners will appreciate the industry's first limited lifetime warranty on the G30's compressor air-end. In addition, Honda offers a 3-year limited warranty on the engine. Learn more about VMAC's Lifetime Warranty (Limited) here.
*Compared to competing 22 to 30 CFM reciprocating gas engine driven air compressors, with 30-gallon air receiver tank.
Work Smarter, Not Harder
We all know in the industry that time is money, but how much is your time worth? How much is your employees' time worth, or the value of your entire fleet's services each day? However you decide to quantify the cost of wasted minutes and hours, waste must be minimized to maximize success.
This is where the VMAC G30 air compressor comes in. This rotary screw gas driven air compressor is your equipment MVP for getting jobs done faster. Get on-demand air in the time it takes to walk from your truck to your tool; no more waiting around for the air pressure to build. And with 30 CFM at 100% duty cycle, you can get through your jobs in less time and with no interruptions.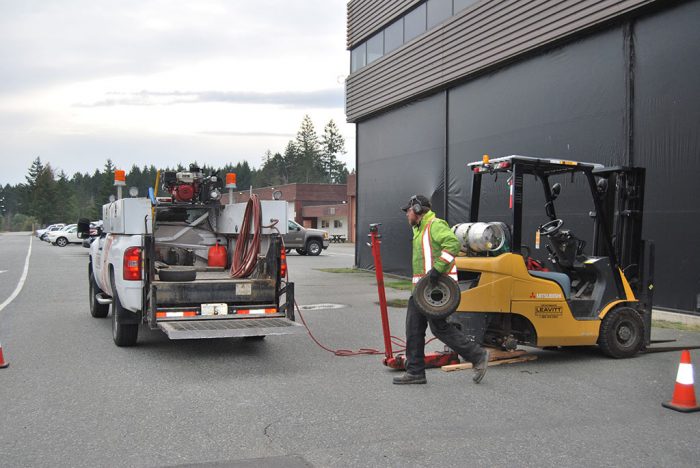 Whether your goal is to finish work faster, to get home and relax, or to squeeze in a few extra jobs before the end of the day, the VMAC G30 air compressor can handle your on-demand air requirements every time. This gasoline powered air compressor was designed with functionality and convenience in mind.
Check out the VMAC G30 gas driven air compressor, plus specs and components, including the cold climate kit for temperatures hitting -25­°F (-32°C). Watch VMAC's G30 demo video to see this powerful and compact compressor in action.
Air Compressor Innovation With Unloader Valve
In VMAC's journey of continuous improvement, we have added an unloader to the Gas Drive Air Compressor. This adds four strong advantages to the system:
Reduces engine RPM and compressor air pressure when the system not in active use, but is engaged (in unload)
Reducing wear and tear
Reduces fuel consumption by 111%, from 140 minutes to 296 minutes in unload
Decreasing engine load also reduces noise when the system is in unload from 81 dB to 75 dB
This improvement positively impacts your bottom line and improves overall performance.
You may also be interested in: