What Is A PTO Air Compressor?
A PTO air compressor is an air compressor that's driven by the power take-off (PTO) of a vehicle. These innovative air compressors are mounted under the vehicle's deck, resulting in an elegant solution that's out of sight and mind until you need it.
Advantages of PTO Driven Air Compressors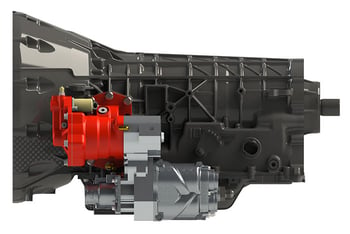 PTO driven air compressors have numerous advantages compared to traditional above-deck air compressors. The benefits of PTO air compressors for work trucks include the following:
Mounted under the deck to free up cargo space
Reduce truck GVW
Rotary screw air end
Provide 50-200 CFM of compressed air
No separate engine to maintain
Fewer moving parts
Can be combined with hydraulic systems
PTO driven air compressors are reasonably simple to install, saving upfitters dozens of labor hours and reducing the purchase cost for owners or fleet managers. With so many advantages, it's little surprise that PTO air compressors are an industry favorite.
Vehicles Compatible With PTO Driven Air Compressors
PTO air compressors are somewhat sophisticated systems designed to integrate with specific vehicles and applications. As a result, not all vehicles are compatible with a PTO system. Air compressor manufacturers have focused on two of the most common diesel work trucks:
Ford F-250 to F-600 Diesel
RAM 3500 to 5500 Diesel
PTO driven air compressors are also available for industrial OEM applications, such as drilling rigs. These PTO air compressors are much larger machines that are typically skid-mounted and can provide over 1,000 CFM.
Direct Mounted vs. Remote (Shaft) Mounted
The PTOs used in the air compressor industry are typically side-mounted PTOs. As the name implies, side-mounted PTOs are mounted directly onto the side of a transmission, and an air end is then attached directly to the PTO or remotely via a shaft.
Remote-Mounted/Drive Shaft Air Ends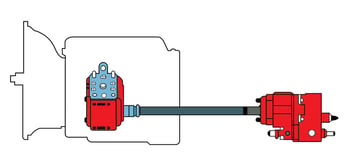 Space around a transmission can be limited, so it isn't always possible to directly connect an air end to a PTO. When that's the case, air ends can be remote mounted using a drive shaft. The shaft acts as a connector, linking the PTO port to an air end mounted elsewhere on the vehicle.
Disadvantages of Shaft Air Compressors
Rotating components are exposed
Increased fabrication costs passed onto buyer
May cause alignment issues

Excessive stress & wear on shaft
Premature shaft breakdown

Can be bulky and heavy
Direct-Mounted Air Ends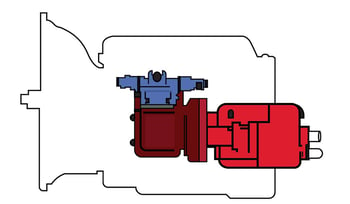 Direct-mounted PTO air compressors are a more innovative solution developed by VMAC and have become a popular compressed air solution. With this solution, a PTO and air end are directly mounted to the transmission, eliminating the need for a shaft.
Direct-mounted air compressors have several advantages over shaft driven air compressors. Because direct-mounted systems have fewer moving parts, they tend to have a longer lifespan and are more efficient.
Direct-mounted PTO air compressors, such as VMAC's Direct-Transmission™ Mounted PTO Air Compressor, are the new gold standard for PTO air compressors.
Fully Engineered Systems vs. Installation Kits
PTO air compressor kits can be purchased in one of two setups:
Fully Engineered Kits
General Installation Kits
Fully engineered options work with specific vehicles and have detailed manuals on installation. They are designed by professional engineers who spend hundreds of hours developing the ideal system for each vehicle. Upfitters are instructed exactly where each component should go, right down to the individual bolts.
By contrast, general installation kits are available for a variety of vehicles and provide more of an installation guideline than specific instructions. It's up to the upfitter to apply the guidelines to specific vehicles, determining each component's exact positioning and required accessories. PTO air compressor kits rely on the upfitter's expertise and creativity, so it's critical to work with a reputable and experienced PTO air compressor upfitter.
Engineered systems come in direct-mounted or remote-mounted options, while general installation kits are only available in remote-mounted options.
How To Find Fully Engineered PTO Air Compressors
Air compressor manufacturers don't tend to openly disclose engineered versus non-engineered solutions, but they are easy to spot if you know what you're looking for. Engineered solutions are marketed towards specific vehicle models, such as the 2023 RAM 4500 Chassis Cab 6.7L Cummins diesel (2WD) or 2023 Ford F-350 Super Duty 6.7L Power Stroke diesel (4WD) and be presented as complete solutions.
By contrast, general PTO air compressor kits won't be geared towards a specific vehicle, are marketed towards several different makes at a time, and are displayed as a collection of individual parts. Upfitters are then required to take these parts and engineer them into a working PTO air compressor system for the buyer's specific vehicle.
4 More Things To Know When Buying A PTO Driven Air Compressor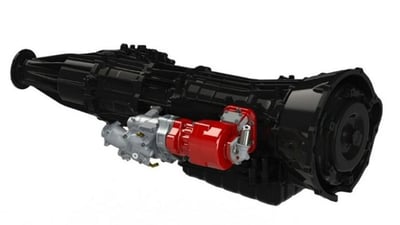 Comparing PTO air compressor models can be overwhelming. Many of the benefits of these systems are common across all models, such as reducing deck space and utilizing rotary screw air end technology. But various PTO air compressors are far from equal, and there are a few significant differentiators buyers should keep in mind when comparing models…
Transfer Case Design
Some PTO air compressor manufacturers redesign or heavily modify the vehicles' transfer case to create the space needed to fit the PTO and its tertiary components. Unfortunately, this may void the OEM warranty on the transfer case and other vehicle parts.
Manufacturers who recognize the significance of this shortcoming have designed PTO air compressors that work with the existing transfer cases with no modifications required. While this solution requires more sophisticated engineering, with mounting kits designed for specific makes and models, it prevents warranty and maintenance issues for the operator.
Weight
PTO air compressors for work vehicles vary in weight, which can increase GVW and fuel consumption. The chart below demonstrates just how significant these variations can be:
| Manufacturer | CFM Output | Weight |
| --- | --- | --- |
| VMAC | 70 CFM | 150 lb (wet) |
| Competitor 1 | 60 CFM | 285 lb (dry) |
| Competitor 2 | 125 CFM | 407 lb (dry) |
More weight doesn't mean a better PTO air compressor—it just means the parts are heavier. Operators looking for a PTO driven air compressor should find the lightest, high-quality system that will meet their air needs.
Read more about weight concerns for vehicles in this article:
Top 5 Challenges Caused By Overweight Heavy Duty Pickup Trucks
Ground Clearance
The first iterations of PTO air compressors had poor ground clearance, and not all manufacturers have updated their designs. The last thing an air compressor should do is limit a vehicle's ability to get around, so operators shouldn't settle for any system that notably reduces vehicle clearance.
Installation Times
All vehicle-integrated air compressors have two upfront costs: the system itself, and the time it takes to install it. Truck upfitters will factor in the install time when quoting customers, passing the cost onto the buyer. Savvy fleet managers will find out how much of their money is going towards parts versus labor and may be able to cut costs by choosing a high-quality engineered PTO driven air compressor with reduced installation time.
Read More About PTO Driven Air Compressors