How to Choose A Mobile Air Compressor For Your Work
Mobile air compressors are a great piece of equipment. They make life easy by offering compressed air on demand, wherever you are, and can power high-quality pneumatic tools. But choosing a mobile air compressor can feel overwhelming, with abundant information and options to consider.
Fortunately, we can make it easy for you to narrow down your choice. In this blog, we'll talk about the simple steps you should follow to choose the best mobile air compressor for the jobs you do.
Step 1: Determine Your CFM And PSI Requirements
The very first thing you should do is determine your air needs. Pneumatic tools all require different amounts of air, and these needs vary quite a bit, even within a single type of tool, which is why you should find out what your tools need as your first step.
Air power is measured in two metrics: CFM and psi. CFM, or "Cubic feet per minute," is the amount of air delivered. Psi, or "Pounds per square inch," is the amount of force behind that air.
Most tools are rated to run optimally at 80 to 110 psi, so you'll want to find an air compressor that can deliver the right CFM at the psi your tools require. The best way to determine your psi and CFM requirements is to review all the tools you will be using and check with the manual or manufacturer. If you plan to use more than one air tool at the same time, you'll need to add the CFM requirements of each tool together to determine your total CFM requirements.
Alternatively, you can get a general idea of your CFM requirements here.
Step 2: Decide On A Rotary Or Reciprocating Compressor
The next step is to determine what type of compressor you need. VMAC exclusively manufactures rotary screw air compressors because they last significantly longer, are of higher quality, can provide air instantly while maintaining constant air flow, and are smaller and lighter. But let's take a quick look at the pros and cons of both types of air compressors:
Rotary Screw Pros:
Continuous airflow / 100% duty cycle
Longer lifespan
Larger quantities of air
Higher CFM per hp
Quieter
Smaller
Lighter
Rotary Screw Cons:
More expensive up front
Requires skilled maintenance
Reciprocating Pros:
Capable of high pressures
Less expensive
Easier maintenance
Reciprocating Cons:
Interrupted flow rates
Low life expectancy
Maintenance costs
Excessive heat
Louder
Heavy
Bulky
If you're looking for a cheap way to get your jobs done for the next year or two, a reciprocating air compressor is probably the way to go. But if you need reliable mobile air for the next 5 to 10 years and are willing to pay more for a better-quality solution, rotary screw air compressors are your best bet.
You can read more about reciprocating air compressors versus rotary screw air compressors here.
Step 3: Consider Tow-Behind Or Vehicle-Mounted
Now it's time to think about how you want to move your air compressor around. There are two major contenders that you can consider:
Tow-Behind Air Compressors
Vehicle-Mounted Air Compressors
Tow-behind air compressors are air compressors that are mounted onto a trailer and towed by the hitch of your vehicle. They're not our favorite option, and we outline the reasons why we don't love tow-behind air compressors in this blog. However, if you need high CFM ratings, plan to leave your air compressor in the same spot for weeks or months at a time, or you simply love towing things around, a tow-behind air compressor may be worth considering.
Otherwise, you're looking at vehicle-mounted air compressors as your best bet. There are two common ways that air compressors are mounted to a vehicle:
The simplest way to mount an air compressor is to simply attach a compressor with its own diesel or gas engine onto the back of a truck (or in a van's cargo hold). Here's a photo from TiNik Inc. that shows off this style perfectly: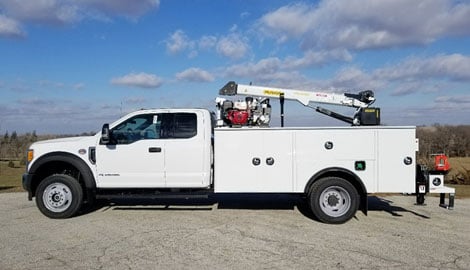 Mounting air compressors in this way is relatively easy and inexpensive, which is why a lot of operators love this style.
Mounting air compressors in this way is relatively easy and inexpensive, which is why a lot of operators love this style.
The other way to mount an air compressor is to intertwine the air compressor components with a vehicle's existing components. These vehicle-integrated installs are sophisticated, and most people can't even see the air compressor, because it's tucked away in the engine compartment or under the vehicle deck. Take a look: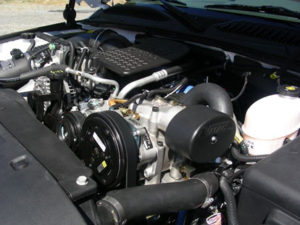 Engineers at companies like VMAC work with vehicle manufacturers to determine the best way to install these air compressors, ensuring the vehicle warranties are always still in effect. However, whether an air compressor can be mounted in this manner depends on the specific vehicle. You can see if your vehicle is compatible here!
Step 4: Determine Your Power Source
Air compressors can be powered by a few different sources. If you've decided on a tow-behind air compressor, you'll be limited to gas or diesel engines. In this case, it makes sense to go with an air compressor that uses whatever type of fuel your vehicle already takes, for simplicity.
But if you choose a vehicle-mounted mobile air compressor, you have options! Some air compressors have their own gas or diesel engines, while others can integrate into a truck's existing engine, fuel source, or hydraulics.
For example, here are the product lines that VMAC offers for various power sources:
VMAC Air Compressor
Power Source
Max CFM Options
G30 Gas Powered
Gas Engine
30
D60 Diesel Driven
Diesel Engine
60
H40/H60 Hydraulic Driven
Hydraulics
40, 60
Multifunction 6 in 1 Diesel
Diesel Engine
45
Multifunction 5 in 1 Gas
Gas Engine
40
Direct-Transmission Mounted
PTO
70*
UNDERHOOD™
Vehicle Engine
40, 70, 110*

*Actual maximum CFM output of the air compressor varies by vehicle application. See VMAC's Application List for details.
Consider what type of power sources you already have available and whether they will work for your air compressor. Using your vehicle's engine or existing hydraulics can be a highly convenient way to power an air compressor. However, if that doesn't work for you or your vehicle isn't compatible, air compressors with their own gas engine or diesel engine can be just as effective in getting the job done.
Step 5: Find An Upfitter That Knows Air Compressors
By this point, you should know what you're looking for in an air compressor and be able to answer some simple questions. Let's break them down:
How much CFM do you need?
Rotary screw or reciprocating?
Tow-behind or vehicle-mounted?
What is the power source?
Now you're ready to talk about specific brands and options. If you decide to go ahead with a vehicle-mounted rotary screw air compressor, your next step will be to find an upfitter. The upfitter will be able to share specific options available to your vehicle and provide you with quotes for purchasing and installing the air compressor. Check out our Dealer Locator to see our favorite upfitters!
If you'd rather have a reciprocating compressor or a tow-behind air compressor, there are numerous options available from retailers across North America. Again, we recommend working with an upfitter who knows air compressors well and can help you choose the best compressor for your needs.
---
Curious what other operators are using? Find out in these posts: