Meet The VMAC DTM70 Team: Kyle McWilliam, Mechanical Engineer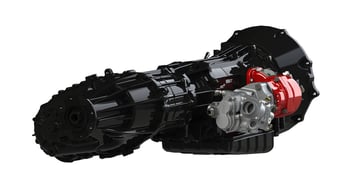 At NTEA's The Work Truck Show 2019, VMAC released the DTM70 Direct-Transmission Mounted PTO Driven Air Compressor for RAM trucks (also available for Ford). The DTM70 earned a lot of attention due to its innovative design that sets it apart from other PTO air compressors. It only weighs 150 lb, saving up to 260 lb when compared to other underdeck PTO air compressors.
VMAC's DTM70 mounts the PTO and air compressor directly to the transmission, rather than using the traditional shaft design. This innovative design eliminates alignment issues that sometimes occur with shaft driven underdeck air compressors.
Learn more about the DTM70 PTO Air Compressor.
In this segment of Meet the Team, we chatted with Kyle McWilliam, one of the lead engineers on the DTM70 for RAM application.
CAN YOU DESCRIBE YOUR ROLE AT VMAC?
I develop VMAC's vehicle integrated air compressor systems. When a vehicle manufacturer launches a new model or platform, the vehicle integrated team will study the vehicle and figure out how to install our equipment. Primarily, I work on the design and development of the compressor mounting brackets and drive systems, and all other details associated with fitting our components seamlessly into specific vehicles.
WHY DID YOU CHOOSE TO WORK AT VMAC & HOW LONG HAVE YOU WORKED HERE?
I have always enjoyed working on vehicles, designing and building things. VMAC provides a lot of opportunity to work on innovative new designs, as well as plenty of time to get away from the computer and get my hands dirty. I started in early 2012 and just celebrated my 7th year anniversary at VMAC.
WHAT DO YOU LIKE MOST ABOUT YOUR JOB?
VMAC is committed to having air compressor systems available as fleets and operators upgrade their trucks and commercial vans to new model years. Engine designs are getting more and more complex. Truck and van manufacturers are leaving less space in the engine compartment to work with, and I enjoy the challenge of designing an air compressor system that integrates with the vehicle. I also like seeing the components I've designed progress through the manufacturing facility and seeing the sales reports full of systems that I've helped develop.
HAVE YOU HAD ANY PARTICULARLY INTERESTING OPPORTUNITIES WHILE WORKING AT VMAC?
Early in my career at VMAC I had the opportunity to travel to RAM's headquarters and worked with their team to perform initial installations of UNDERHOOD™ 70 and UNDERHOOD™ 150 air compressors. In just three days we installed the air compressors, tested them, and removed them. It was exciting to be able to work so closely with RAM at their HQ and get to see behind the curtains. I really like that VMAC has a strong relationship with each of the vehicle OEMs and that we can work directly with them when we're developing a new system.
DESCRIBE THE PROCESS OF DEVELOPING A VEHICLE INTREGRATED AIR COMPRESSOR WITH RAM:
The process typically begins with a measuring session held by the automaker. VMAC has travelled to all the OEMs for measuring sessions, including RAM, Ford, GM and International to see pre-production vehicles. Then we get CAD data from these automakers and we begin the design process, designing the brackets and drive systems, as well as any application specific components.
In the specific development of the DTM70 for RAM, we didn't need a measuring session, as the truck was already available to us.
Following a successful fitment of the compressor mounting and drive components, the team then finalizes additional details, such as hoses, wiring harnesses and accessory brackets and our documentation. Next, the system transitions to VMAC's in-house production teams to be validated and released.
ANY MEMORABLE MOMENTS OR MILESTONES YOU'D LIKE TO SHARE FROM YOUR TIME DEVELOPING THE DTM70?
It's always a satisfying feeling when you hit the "on" button on the control box for the first time and the system comes to life.
The VMAC team has gotten so good at prototyping that the first run of DTM parts assembled easily. Our on-site foundry and R&D machine shop greatly reduce the time it takes to develop prototypes, which is a big advantage.
Sourcing a suitable truck proved to be a challenge, but we had a local VMAC Dealer, Work Truck West, with a RAM truck for us to work on. Once the truck was at VMAC we installed the PTO and air compressor directly to the transmission, and the system operated smoothly for our first install.
WHY DID YOU CHOOSE TO BE IN MECHANICAL ENGINEERING?
Those familiar with the Dilbert cartoons may remember an episode in which young Dilbert was diagnosed with "The Knack". I won't ruin the joke for anyone who hasn't seen it, but if you watch it, imagine me as young Dilbert.
WHAT DO YOU LIKE TO DO IN YOUR FREE TIME?
I've recently started brewing beer. My garage is turning more and more into a dedicated brewery space. It's getting full of shiny vessels and smells delicious. I find myself thinking about LEAN methodology as I progress with my set up.
I also joined the North Cedar Fire Department as a volunteer firefighter about 4 years ago. Fighting fires is only about 10% of our calls, with the other 90% of our calls being medical, motor vehicle accidents, hazardous materials, swift-water, and some technical rope rescues. It's an extremely rewarding experience and my only regret is not joining sooner.

I have friends who own a private race team and I got the opportunity to join the off-road race team for the SCORE San Filipe Baja 250. The San Filipe 250 is a 350 mile off-road race on the Baja California Peninsula. It just took place at the beginning of April and I had so much fun with the team and community of racers. Unfortunately, the truck suffered a major break-down early in the race and I didn't get to drive my stage, however the trip overall was fantastic. Driving the truck during practice before the race was of course amazing. I hope I can go again next year.
Learn more about VMAC's line DTM PTO Air Compressors. Explore the other vehicle integrated air compressor systems, UNDERHOOD™.