Types of Portable Diesel Air Compressors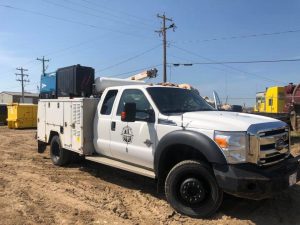 Portable diesel air compressors come in numerous styles, sizes, and formats. In this article, we'll talk about the three most common types of diesel-powered portable air compressors so you can make sense of your various options.
One of the most important differences between diesel air compressors is the intended market and, subsequently, the quality and cost. Air compressors are made with one of three targets in mind:
Residential / Casual
Commercial
Industrial
Residential Portable Diesel Air Compressors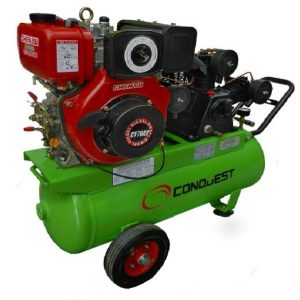 Residential, hobby, and casual-use air compressors are the ones you will commonly find at Home Depot, Amazon or eBay. They typically offer less than 10 CFM at 90 PSI and are best suited for small, personal projects or operators who only need light air on a very irregular basis.
These air compressors need to be portable and are typically light enough to carry or pull by hand, so they can tuck away when they're not in use.
While diesel air compressors for personal use exist, they can be challenging to find, and most big box stores carry a more comprehensive selection of gas-powered air compressors instead.
Residential Diesel Air Compressor Overview
Up to 10 CFM @ 90 PSI
Reciprocating air end

Requires 1- to 80-gallon air receiver tank

Pancake or hot dog air receiver tank
Hand-carry or wheels
Difficult to find
Choosing A Portable Residential Diesel Air Compressor
Residential air compressors are almost always reciprocating air compressor systems, as this is the most cost-effective form of air compressor.
Reciprocating air compressors require filling an air receiver tank before using the compressed air. These air tanks are the most noticeable feature of residential air compressors. Residential air compressors typically come with an air receiver tank between 1 and 80 gallons, and these tanks are available in a "hot dog" or "pancake" shape. There is no notable benefit to one tank shape over the other.
Hobbyist air compressors will usually provide enough air for everyday household air tools, including drills, nailers, and small impact wrenches.
In today's market, diesel-powered variations of residential-grade air compressors are rare. Most manufacturers favor an electric or gasoline power source, as these are easier to source for most casual air tool users.
If you're looking for more information on low CFM, budget-friendly air compressor options, check out Home Depot's Air Compressor Buying Guide.
Portable Diesel Air Compressors For Commercial Use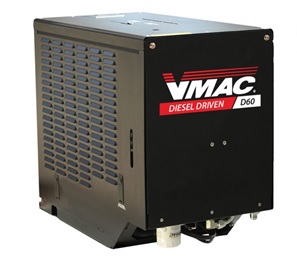 Commercial-grade portable diesel air compressors are the next step up. They are best suited for most applications using 60 to 250 CFM of compressed air, including tire service, construction, municipal utilities, and mobile mechanics.
Commercial air compressors are designed for operators who use air regularly and need access to air wherever they go. These heavy-duty air compressors usually weigh 500 to 2,000 pounds, so they are towed on a hitch, skid-mounted, or mounted directly to a service vehicle chassis.
Tow-behind air compressors have their purpose for commercial use, but we think their cons greatly outweigh the pros unless an application requires large amounts of air or continuous air on the job site for long periods. We favor a vehicle-mounted diesel air compressor for commercial projects using smaller, standard air tools, such as the VMAC D60 diesel air compressor.
Commercial Diesel Air Compressor Overview
Up to 250 CFM @ 150 PSI
Rotary screw or reciprocating air end

Air receiver tank optional for rotary screw

Vehicle-mounted, skid-mounted, or tow-behind
Options For Commercial-Grade Portable Diesel Air Compressors
There are numerous advantages to commercial-grade portable diesel air compressors: a high CFM and PSI range, rotary and reciprocating air end options, and the ability to power most tools in a diverse range of applications.
While many options are available for portable diesel air compressors at the commercial level, it's important to recognize that not all options are equal. Better quality air compressors, including rotary screw compressors, tend to come at a higher price point than lower quality options made with cheap parts or bulkier designs.
If you rely on compressed air to get your work done, we recommend only working with manufacturing brands that have a lifetime warranty on their air compressors. Top-shelf air compressor manufacturers will stand behind their products to ensure they last as long as you need them to.
Discover 6 awesome features of VMAC's D60 diesel air compressor…

Industrial-Grade Portable Diesel Air Compressors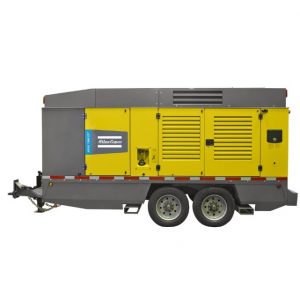 Last but not least, there are also industrial diesel air compressors. Industrial compressors are large machines that are used for very specialized purposes, tend to stay on job sites for the duration of a project, and are made by industrial supply companies, including Atlas Copco and Sullair.
Industrial air compressors can produce very high CFM and high PSI but have an equally high price tag. They generally come in tow-behind or utility-mounted models. If you're not sure whether you need an industrial-grade air compressor for your work, you probably don't.
Industrial Diesel Air Compressor Overview
Up to 1,800 CFM @ 500 PSI
Rotary screw or centrifugal air end
Tow-behind or utility-mounted
Options For Portable Industrial Diesel Air Compressors
Industrial diesel air compressors are designed for applications that require high CFM, with options over 1,800 CFM available. These air compressors are used to power large pneumatic tools and equipment or multiple large tools at a time.
Industrial diesel air compressors tend to come in tow-behind or utility-mounted models, allowing the air compressors to be moved by either a truck, forklift, or crane.
Most diesel industrial air compressors use rotary screw designs, although there are some rare exceptions. Because industrial applications are so varied and unique, the best way to find the right industrial-grade diesel air compressor for your work is to talk directly with the major manufacturers or with a trusted industrial equipment supplier.