Does An UNDERHOOD™ or Direct-Transmission Mounted Air Compressor Void My Vehicle Warranty?
For those looking for a one-word answer, it's no. UNDERHOOD™ and Direct-Transmission Mounted air compressors do not void a vehicle manufacturer's limited warranty on new trucks or vans.
Both Canada and the United States have laws that protect consumers' warranties when using aftermarket parts and ensure manufacturers are staying true to their warranties. Air compressors that use PTO or engine-driven systems are considered aftermarket parts and, therefore, are covered by these laws.
Warranty Protection in the United States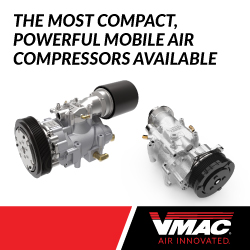 The Magnuson-Moss Warranty Act is a federal law that was created in 1975 to protect consumers from companies that may not want to follow through with their warranty. The law embodies the attitude that you don't need to have a warranty but, if you do, then you'd better make good on it.
Under the Magnuson-Moss Warranty Act, the burden of proof is on the manufacturer's dealer to show that the aftermarket equipment caused the need for repairs before denying warranty coverage. In the context of UNDERHOOD™ air compressors, a truck manufacturer like Ford or Chrysler would have to prove that the air compressor itself caused the vehicle or part to fail.
Here is what the Federal Trade Commission (FTC) says about aftermarket parts in their Magnuson-Moss Warranty Act explainer:
"An 'aftermarket' part is a part made by a company other than the vehicle manufacturer or the original equipment manufacturer. Simply using an aftermarket part does not void your warranty. The Magnuson-Moss Warranty Act makes it illegal for companies to void your warranty or deny coverage under the warranty simply because you used an aftermarket part."
Even in a worst-case scenario, if an UNDERHOOD™ system caused damage to a part, the vehicle manufacturer would only be allowed to deny coverage for the part specifically damaged. The remaining vehicle warranty would remain fully intact, which is also explained by the FTC:
"If it turns out that the aftermarket part was itself defective or wasn't installed correctly, and it causes damage to another part that is covered under the warranty, the manufacturer or dealer has the right to deny coverage for that part and charge you for any repairs. The FTC says the manufacturer or dealer must show that the aftermarket equipment caused the need for repairs before denying warranty coverage."
VMAC Direct-Transmission™ Mounted and UNDERHOOD™ air compressors are built for specific trucks and applications, and that's deliberate. VMAC engineers work with vehicle manufacturers before the release of their new trucks and vans to determine the optimal mounting locations of compressor components on any given vehicle. If VMAC can't find a reliable way to install an UNDERHOOD™ or Direct-Transmission™ Mounted air compressor that protects you and your warranty, they don't offer the air compressor for that vehicle. It's that simple.
Warranty Protection in Canada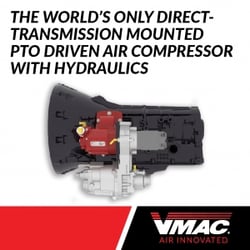 It's a common misconception that Canada has a blanket consumer protection law that's similar to the Magnuson-Moss Warranty Act, but that doesn't mean consumers have been hung out to dry. Individual provinces have created their own laws to help protect consumers and ensure warranties are enforced.
In addition, major manufacturers all have Canadian warranties that are similar to their U.S. counterparts. Manufacturers know that consumers are purchasing their trucks and modifying them into service vehicles and they wouldn't risk losing clientele over unreasonable warranty restrictions.
Instead, manufacturers' warranties essentially follow the U.S. laws: aftermarket damage to a part may void the warranty on that specific part, but it doesn't void the whole warranty. Here are a few examples of this in writing, straight from the manufacturers:
Ford

2018 Model F-650/F-750
Ford Trucks

(Source)
"What is Not Covered Under this New Truck Limited Warranty?
Damage Caused by Accident, Misuse or Alteration
Examples of items not covered are:



Alterations, modifications or reconstruction of the vehicle, including the body, chassis, or any other component after the vehicles leaves the control of Ford of Canada




Non-Ford parts installed after the vehicle leaves Ford of Canada's control and causes a Ford part to fail.



NOTE: Warranty coverage will be invalidated on parts affected by such damage."
GMC

2018
Canadian Limited Warranty and Owner Assistance Information

(Source)
"The use of parts, control module calibrations, software modifications, and/or any other alterations not issued through General Motors will void the warranty coverage for those components that are damaged or otherwise affected by the installation of the non-GM part, control module calibration, software modifications, and/or other alteration."
RAM

Warranty Information
All RAM Trucks
2018

(Source)
"The warranties in this booklet do not cover repairs required because of non-FCA [Fiat Chrysler Automobiles] modifications, installation of special equipment or accessories, or use of special materials, fuels or additives. This includes special bodies, body conversions, fuel system conversions, trailer hitches, window tints, sunroofs, theft alarms, etc. Non-FCA modifications do not by themselves void your warranty, but they are not covered by your warranty"


Each province and territory has consumer protection laws that ensure manufacturers are following these warranties and staying true to their word. Manufacturers who provide a warranty are essentially guaranteeing the products and services that are included, and they do so voluntarily. Warranties are not required! Therefore, a warranty is a written guarantee that obligates the manufacturer to follow through, even if you've installed an UNDERHOOD™ or Direct-Transmission Mounted air compressor.

Installing a VMAC air compressor? Register your warranty here.