Best Service Truck Air Compressors For 2023 & 2024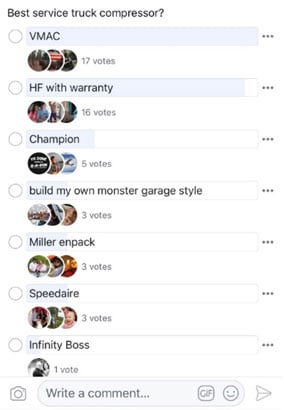 Discovering the best service truck air compressors for the upcoming year can be tough, but your fellow service truck operators are here to help!
A poll on Facebook in the Service Trucks group, which has over 40,000 members, asked what service truck operators across the United States and Canada think are the best service truck air compressors.
In today's article, we'll take a closer look at your top picks.
1. VMAC
VMAC is top of the list, and we can think of more than a few reasons why… But the most common reasons people choose VMAC over other air compressor brands include:
High-performing rotary screw design

100% duty cycle
No air tank needed

Limited lifetime warranty
30 to 140 CFM ranges
Lightweight & compact designs
Numerous options for power sources
Manufactured in North America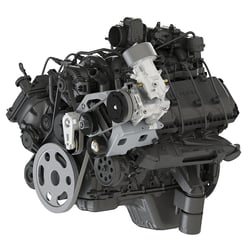 VMAC's flagship product, UNDERHOOD™, revolutionized how air compressors mount to a service vehicle. By placing the individual air compressor components within the engine compartment, VMAC frees up space and ditches unnecessary weight.
After UNDERHOOD™ took the industry by storm, VMAC released several additional vehicle-integrated and stand-alone air compressors, all of which are built specifically for service trucks and vans.
VMAC continues to be the leader in compressed air innovation and has six lines of air compressors on the market today. The VMAC air compressors we predict will be most popular in 2024 are:

2. Harbor Freight with Warranty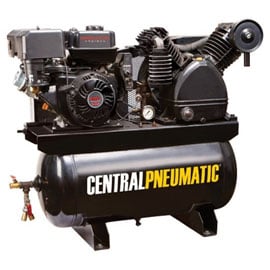 Buying an air compressor from Harbor Freight is a decent option if you want something less sophisticated, with lower power and a price tag to match. It's important to note that Harbor Freight doesn't actually make air compressors—instead, they're a reseller of a few inexpensive, low-output (under 20 CFM) brands.
Harbor Freight's air compressor brands include:
Bauer
Central Pneumatic
Fortress
McGraw
Pittsburgh Automotive
Harbor Freight's Extended Service Protection (ESP) makes these air compressors desirable for the casual air user. Harbor Freight will replace, repair, or refund your purchase with 1 or 2-year coverage beyond the original manufacturer's warranty. This warranty program is a great way to get peace of mind when buying lower-price-point air compressors with a shorter lifespan.
3. Champion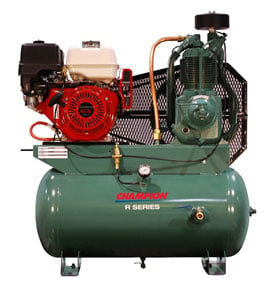 Champion is best known for its reciprocating air compressor models and, as far as recips go, Champion tends to make a version that's higher quality than most on the market; Champion doesn't make the toss-away reciprocating air compressors that get thrown off the back of trucks when they die.
Of course, this superior quality is reflected in a higher price tag that puts Champion in the same price range as some rotary screw air compressors, including VMAC's G30, but without the rotary screw benefits.
Champion's air compressors are backed by a standard 3-year warranty for the air compressor pump, with the option to purchase a premium extended warranty for an additional three years. Other package components are covered for one or two years, respectively.
If you've decided that a reciprocating compressor is right for your service truck, Champion is a great option to consider.
4. Build-My-Own Monster Garage Style
Here's to all the innovators! Building a new machine out of nothing isn't for the faint of heart, but it makes sense that daring, mechanically-inclined individuals would build their own systems. DIY air compressors can be an excellent solution for people on a shoestring budget who love a mechanical challenge, need lower CFM outputs, and are happy with a machine that will only last a few years.
Of course, it would be irresponsible not to mention that compressed air is a dangerous and sometimes deadly form of power. If you're going to make your own "monster" compressor, ensure you know exactly what you're doing and always follow strict safety practices to protect anyone in the vicinity—including yourself!
5. Miller EnPak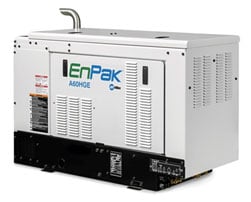 Miller's EnPak isn't an air compressor—it's a multi-power system, which puts it into an entirely different category. Multi-power systems combine several pieces of equipment into one single package and typically include the following components:
Air compressor
Generator
Welder (optional)
Hydraulic pump (optional)
Multi-power systems are a great way to eliminate extra standalone pieces of equipment, reduce GVW, and free up space, while still carrying all the equipment needed to get the job done. If you're interested in learning more about multi-power systems, we recommend the following article:
6. Speedaire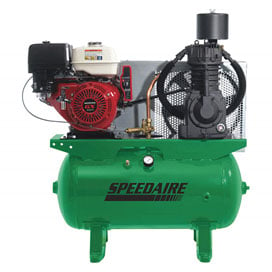 Speedaire is an air compressor brand sold exclusively by Grainger, an industrial distributor that's become relatively well known across North America. However, it's not the actual manufacturer of the systems—instead, Speedaire is a rebrand of a variety of existing air compressors and operators have suspected Champion, Campbell Hausfeld and overseas brands in their catalog.
Because of Speedaire's medley of manufacturers, it's a bit tough to talk about Speedaire as a collective brand, but the brand does have a good reputation for decent-quality reciprocating air compressors and excellent customer support.
Speedaire is best known for its portable gas and electric shop compressors, but also includes a small line of air compressors that can be properly mounted to a vehicle. These reciprocating air compressors are gas powered with a Honda engine, and offer up to 24 CFM of compressed air.
Here's a quick overview of Speedaire air compressors for service trucks:
10-24 CFM air compressors
Gas-engine powered
Reciprocating air compressors
The Speedaire line also falls under Grainger's standard warranty, which backs its equipment and products for one year from purchase. This isn't a great warranty, but it's better than nothing.
Speedaire is a potential option for operators who only need low-output bursts of air or for operators who need a shop compressor that can quickly move between two or more locations.
Additional Air Compressor Resources
Learn more about buying air compressors for service trucks: